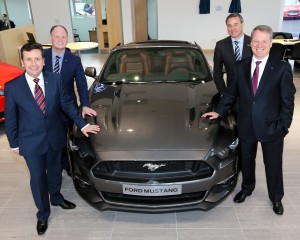 LOOKERS has opened a new state-of-the-art £4m Ford superstore in Essex.
The FordStore, in Argyll Road in Chelmsford, has created 85 jobs.
Lookers chief executive Andy Bruce said: 'Alongside the best range of products Ford has ever had in the UK, we're confident our investment in this showroom with its open, inviting layout and technological enhancements will be met with delight by our loyal Ford customers in the area and all those new to Ford who we look forward to welcoming through our doors in 2015.'

The new Lookers FordStore in Chelmsford is the first of three which the company have planned for 2015. Others are earmarked for opening in Sheffield and in Colchester before the end of this year.
Ford chairman and managing director of Ford UK Mark Ovenden said: 'Our specially-designed FordStores are tailored to entice and engage customers by providing lifestyle experiences which are practical and exciting.
'Stylish, spacious and modern, thousands of Ford customers across the Chelmsford and wider Essex area can now rely on receiving an unrivalled Ford brand experience from the moment they arrive.'
In addition to the new FordStore facility, Lookers also revealed plans to create a new, purpose-built Ford Transit Centre in Chelmsford later this year. The new Ford Transit Centre at its site on Robjohn's Road, Chelmsford, will focus on showcasing the new Ford Commercial Vehicle range which has expanded significantly over the past year.

To mark the new superstore opening, Lookers pulled back the covers to give customers a glimpse of the eagerly-anticipated new Ford Mustang, which took pride of place in the innovative new centre ahead of its official launch in the third quarter of 2015.
Above: Lookers chief executive Andy Bruce and managing director Nigel McMinn (back left and right) are joined by Lookers Ford franchise director Bob Grant and Mark Ovenden, the managing director of Ford UK (front left and right), around the not-yet-released new Ford Mustang
Below: Andy Bruce, Bob Grant and Mark Ovenden with staff at the official opening
MORE: City Auction Group opens new centre at Rockingham
MORE: There's even a Roller on stricken cargo vessel…