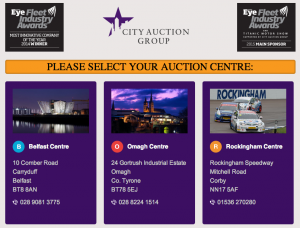 CITY Auction Group, Ireland's no 1 auction firm and the country's fastest growing auction group, is opening a specialist automotive remarketing centre at Rockingham Speedway, Northamptonshire.
City Auction Group's new super centre will hold corporate auction events on behalf of major FN50-listed contract hire and leasing companies, financial institutions, daily rental companies and motor manufacturers.
City Auction Group has seen dynamic growth over the last five years, opening three centres at Dublin, Belfast and Omagh and the firm has radically changed the face of remarketing in Ireland for manufacturers and dealers alike.

Michael Tomalin, managing director, said: 'In just a short time, we have established City Auction Group as the largest auction firm in Ireland. We have established partnerships with many of the large corporate vendors and have consistently supplied a wide range of quality vehicles to franchised and independent dealers.
'All our auction events have been supported by cutting-edge technology, including innovative apps for tablets and smart phones, enabling dealers to bid and buy vehicles, wherever they are globally.
'We are very excited about the launch of our new super centre at Rockingham Speedway. It represents our first foothold on the mainland and will provide us with a springboard to launch further expansion across the UK over the coming years.'
City Auction Group is holding its inaugural auction event at Rockingham on February 5 at 10am. The firm will be offering more than 500 corporate vehicles from 25 corporate vendors featuring dedicated sections from Lex Autolease, Semalease, Peugeot & Citroen Financial Services, Avis and Budget and many more.

The physical auction will be supported by an IOS/Android live bid and auction app for smart phones and tablet devices. A dedicated soft seated live bid lounge is being introduced as another new initiative for the group.
MORE: There's even a roller on board stricken vessel
MORE: New car registrations will slow in 2015