AS the industry has reshaped over the last few months, many dealers will be looking for the next up-and-coming business to work with.
If you're looking for an additional franchise partner for your car dealership, or want to add your first new car franchise to a thriving used car business, SsangYong could be perfect for you.
The South Korean brand has already turned heads with its excellent products at competitive prices, combined with a seven-year warranty, which customers love.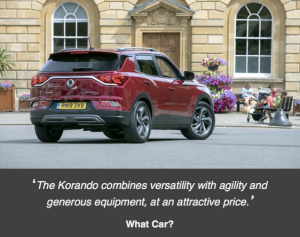 Now they're looking to extend the reach of the brand in the UK with more dealer partners.
David Rose, UK dealer recruitment and development manager, said: 'We are looking to continue to grow the SsangYong network, bringing partners into open points across the country.
'We have plenty of great opportunities in urban and rural territories.
'We have availability in lots of areas including Newcastle, Sunderland, Teesside, South Durham, Glasgow, Ayr, Warrington, Manchester, Bradford, Wakefield, Birmingham South, Cambridge, Canterbury, Bristol, Swindon and many more.'

Find out more about SsangYong franchising
This means car dealerships which have seen their used car business flourish recently, but are looking for a dependable and affordable new car franchise, could jump on this opportunity to work with an exciting new partner.
Rose explained: 'We're continuing to build the network with 17 new dealers appointed in 2019, and six so far in 2020.
'Clearly the Covid-19 situation has slowed things down, but we are fully up and running again, and looking for partners.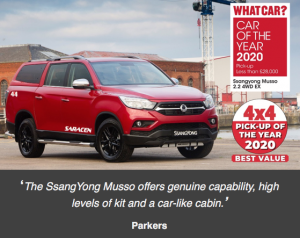 'It's a very low cost introduction to franchising, which allows a seamless transition into the brand. We look to allow our partners time to build the brand within their territory, so that the partnership is for the long term.'
'The SsangYong brand is built on very high quality products, at a competitive price. Our seven-year warranty gives customers peace of mind, and very high repeat business.
'The brand is easy to operate and we are not bogged down with corporate processes. We allow our dealers to get on with the job of selling and servicing cars. It's incremental to a dealer's current business, and we have a mixture of new vehicle franchisees, and businesses where SsangYong is the first venture into new vehicle franchising.'
Here's what two SsangYong franchisees – one new and one more experienced – had to say about the brand…
Want to find out more? Visit the SsangYong UK website for further details.
Prestons SsangYong
Dealership Prestons has been serving its community in Essex since 1919, so the team there knows what makes a great product. It's one of the newest partners to join the SsangYong brand and is loving the experience.
In August 2019 they decided to take on a SsangYong franchise, which finance director Suzanne Earthy explained has been an 'absolutely perfect fit'.
The company is located in Writtle, Chelmsford, and found that by attaching the SsangYong franchise to its dealership, new customers were coming from far and wide for servicing.
Earthy said that they ended up connecting with the brand when they themselves were trying to find parts and couldn't find anyone local, leading them to realise there could be an opportunity in their region.
Earthy said: 'Since we've been a dealer we've had customers with SsangYongs coming from 50 or 60 miles away for servicing.
'We're in the middle of Essex and our nearest dealer, until recently, was Norwich or the other side of the water in Kent. We're sitting at quite a good position really and people are prepared to travel to us to have their car serviced.'
She explained that through the whole process SsangYong had been 'very easy and very helpful'.
'The customers are very happy with the cars because they're good value for money, reliable and stylish – they just love them,' said Earthy.
The 100-year old business has experience as a franchise dealer – it was previously a Skoda main dealer from 1995 to 2002 – before becoming an official aftersales repairer for the Czech brand.
'We have a lot of loyal customers,' said Earthy. 'The garage has been on this site for 100 years and owned by the same family.
'SsangYong fits in perfectly. It's a progressive company; I just think they're going to get better and better. I feel that SsangYong is where we were with Skoda 20 years ago and I think they will just improve year-on-year.
'SsangYong has got good backing, it builds good reliable cars with a seven-year warranty and it's had the Vinnie Jones advert – SsangYong is going to progress.'
Autovillage
Autovillage in Cheltenham has been a long-standing SsangYong partner, joining the brand seven years ago with the belief the brand was going places.
The SsangYong franchise has been the main focus for the dealership and it has worked extremely well – so much so that Autovillage is now one of SsangYong's top performers in the UK.
Paul Boyce, managing director and owner of Autovillage SsangYong, said: 'We're probably one of the oldest SsangYong franchises today.
'We took it on in 2013, because it was a low cost option to take on at the time and we also felt that it was a more compelling proposition.
'It was also about to become a complete range of vehicles, with South Korean technology in the products that was fundamentally good and the brand had an opportunity to take off in the UK.
'Technically the product has got a lot better; it's a lot more modern and it's certainly caught up with the opposition now. We've always known where the brand stood though – it worked for us as a great value proposition. I like the fact it's got some niche values to it.'
That 'niche' has played into Autovillage's hands, and he explained that once they tapped into this and what the customers wanted, they were on a roll.
He said: 'We've consistently sold 100 to 150 new SsangYongs a year since 2014, so we've built a good database of customers. Then we sell a lot of used models.
'We've found a nice niche in the market to sell these. We understand the brand, which means we understand the customers, and that means we make more money.'
Boyce explained another benefit is that as the management team is smaller it means 'you can have a much cleaner and much more straightforward meeting with them.'
'The ability to get fresh product through quickly has been really good,' he said.
For some dealerships SsangYong can work as a great addition but the Autovillage boss explained it's benefitted the team to focus on the brand.
He said: 'Fundamentally we are more focussed on it than a lot of people. Some agents have it as a second or third-string franchise.
'We've had success with it because we worked it hard in the early days with outside events. In niche areas it does very well, such as towing and caravanning, and it still offers great value to people once they're aware of it. The product itself is very, very good.'
Want to find out more? Visit the SsangYong UK website for further details.