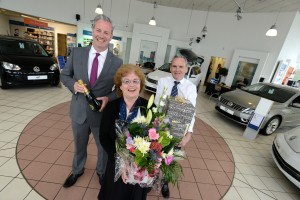 VERTU Volkswagen Boston has helped a member of staff celebrate 45 years of loyal service at the dealership.
Mavis Watson (63) began working at the Marsh Lane site at the age of 18. During her time she has experienced six changes of ownership, culminating in Vertu Motors plc, the sixth largest motor retailer in the UK.
Mavis has also worked with several different franchises and seen the transition from manual working to fully computerised systems.

She has been involved in a variety of roles over the last 45 years, from accounts assistant to reception, and currently manages the administration for the dealership's sales function.
Mavis received a letter of congratulations from CEO Robert Forrester and was presented with champagne, flowers, a wall plate depicting Mavis' love of cats and a crystal vase by sales manager Mike Devlin and Ian Batley from Volkswagen.
Mavis said: 'I was totally surprised that anyone knew that I was celebrating 45 years working at the dealership, and even more surprised to receive such lovely gifts.
'I have seen huge changes in my time here, both in working practices and in personnel and ownership but I have to say that I have always enjoyed my job. I don't think I could have stayed for so long if I didn't!'

Mr Devlin said: 'Mavis is a fantastic example to all of us and is an integral part of the dealership team.
'She has been here longer than any of us and her experience and common sense are invaluable in helping the sales process to run smoothly and in facilitating the excellent customer service we pride ourselves in delivering.'