Mercedes-Benz won't be pushing customers to adopt fully-electric vans just yet, its UK boss has said.
Speaking on Car Dealer Live earlier this week, Mercedes-Benz Vans managing director Steve Bridge admitted that electrified models won't suit many of its current customers, and so the firm has adapted a different sales method altogether.
'There are obviously people in the market who are bringing electrification into mainstream a little bit quicker than we are,' Bridge told host James Batchelor. 

'We're changing the way that we go to market – it's a consultative sell. And I'm not massively hung up about being first to market or the highest in market share. What I want to do is provide the right vehicle for the client – morally and professionally that is the right thing to do. 
'And if that means I have to lose a couple of sales to the new kids on the block at the beginning then so be it, but I won't ever sell something to someone that isn't the right thing.'
Bridge points to issues balancing range and payload from the current crop of battery-powered vans as the biggest issue for customers.
'But the range anxiety and the payload anxiety in the van industry is the problem – because everybody wants to operate exactly the same way that they do with diesel,' he told us.

'If you're running a small franchise… going and cleaning people's ovens in a town or city, then yeah a zero emission electric vehicle would be perfect. You go home at night, plug it in, in the morning you run for no real mileage.
'But if you're delivering 300 drops a day [for] Hermes… could be a bit of a problem if you've run out of electricity on drop number 12.'
Despite this, Bridge says initial demand for electric vans is solid – until, that is, customers realise they may need to change the way they operate.
'We had a zero emission Vito in 2013 and I ordered a couple of hundred of them. Immediately everybody wanted one – and then they realised they couldn't go as far as they wanted to go, and couldn't carry as much as they thought, so all of a sudden that pent-up enthusiasm about saving on fuel and being green sort of diminished.
'So this consultative sales aspect is very very important. You have to look at what the client does, ask them what they do in detail, and then provide them the right solution.'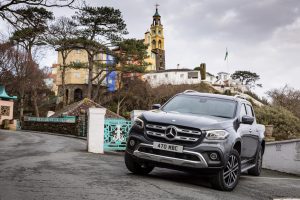 UK not responsible for X-Class's demise
Bridge also spoke about the reasoning behind pulling the X-Class pick-up truck from the range, having been introduced to much fanfare just three years ago.
Host James Batchelor posed the simple question of 'what went wrong?'.
'From the UK point of view I don't think anything went wrong with it at all,' replied Bridge. 'I think it's a premium product, we pitched against other premium vehicles as well, but it's a well-served market in the UK.'
With the X-Class becoming a not uncommon sight around the UK in its relatively short life, Bridge pointed to its lack of success in other markets as the reason for pulling it from sale.
'To answer your question of what went wrong with it, nothing in the UK. It was more a question of volumes in particular other countries for us, and the decision was taken to withdraw from that segment,' he said.
'It's something that happens from time to time within brands, we do it on certain car models as well.'