MERIDIEN Modena in Lyndhurst has been named Ferrari Dealer of the Year – the highest accolade a Ferrari dealership can receive.  
It follows awards from Ferrari for Showroom of the Year in 2014 and Aftersales Dealer of the Year in 2017, making the Hampshire-based dealer the only one in the world to have received all three titles.
The outstanding overall performance the dealer demonstrated across all areas, such as customer service and satisfaction, is what resulted in Ferrari honouring it with this year's title, said the manufacturer.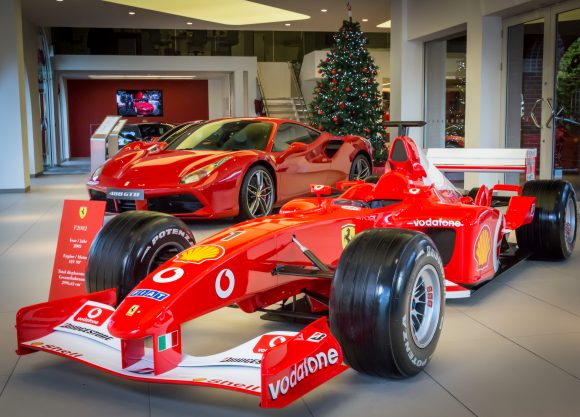 In recognition of the dealership's contribution to the network's reputation and service, Ferrari presented it with a Scuderia Ferrari F1 car driven by seven-times world champion Michael Schumacher during the 2002 season. It is now on display in the showroom.
Director Glen Butt said: 'All of our customers are the driving force behind this achievement, and we would like to thank them for their continued support. We are privileged to have the support of a long-standing family of staff members and must also thank them for this incredible honour.
'Thank you to everyone! Being recognised as Ferrari's Dealer of the Year 2018 means so much to a family-owned business like ours.'
By Oliver Young

MORE: Range Rovers and Porsches are top of car buyers' Christmas wish lists
MORE: Trademark claim lodged against Bentley Motors
MORE: Driveable Lego Bugatti Chiron makes UK debut at London car dealership