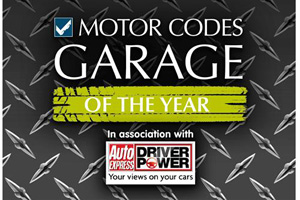 MOTOR CODES is on the hunt for Britain's best garages – asking the public to rate their favourite service centres.
Teaming up with Vicki Butler-Henderson and Auto Express's Driver Power Survey, Motor Codes will be highlighting the public's favourite garages based on drivers' feedback.
Customers can vote from today, and give their opinions on 'who they trust to provide quality work, excellent customer service and value for money'. Any Motor Codes/OFT approved garage is eligible for voting.

'Garages today are no different from any other retailer or service provider,' commented Motor Codes's managing director, Chris Mason. 'The forward-thinking businesses make themselves as transparent as possible. They engage with their customers, value feedback and recognise that online reputation is hugely valuable to people searching for a reputable business.
'Garage of the Year uses online feedback to create a record of the good guys and, through voting in this competition, motorists are effectively helping fellow car owners know where to turn for a good garage experience.'
As an added incentive, all voters are entered into a prize draw to win a pair of tickets to the Dunlop MSA British Touring Car Championship finale at Brand's Hatch– with 'full hospitality' provided by Porsche Cars GB.
Voting closes on March 3, after which the top 50 garages – franchised or independent – will be shortlisted, before customers vote again to decide the winner. Customers can vote at www.motorcodes.co.uk.