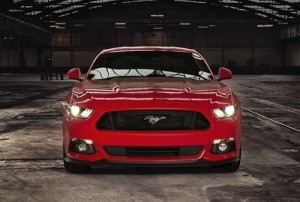 EUROPEANS have been going mad for the pony badge as the Ford Mustang went on sale in this continent for the first time in January this year. 
The Mustang broke records, as more of the model were specified online than any other Ford vehicle before. The website attracted more than 1.1 million visits from mid-January to mid-February.
Data for that period indicated that the new Mustang equipped with the 310bhp 2.3-litre EcoBoost engine accounted for half of all configurations. The other half were specified with the 412bhp 5.0-litre V8 engine.

'The rush to configure Mustang online represents 50 years of pent up demand across Europe,' said Roelant de Waard, vice-president, marketing, sales and service, Ford of Europe. 'For some people, the new Mustang is the car they have waited for their whole lives.'
Confirming European tastes for sports cars with accessible performance, the most popular specification overall was the EcoBoost-equipped model with six-speed manual transmission, chosen for 37 per cent of models configured. Manual transmissions overall accounted for two-thirds of models specified.
Of the five largest European sales markets – UK, France, Germany, Italy and Spain – the powerful 5.0-litre V8 engine was most popular in the UK (54 per cent) and Germany (60 per cent). The EcoBoost engine was most popular in Italy (61 per cent), Spain (59 per cent) and France (55 per cent).
The top colours were Race Red and black, each accounting for 20 per cent. In the biggest five sales markets, the most popular colours were. In the UK Race Red was the most popular accounting for 22 per cent and Deep Impact Blue was chosen by17 per cent.

MORE: Buyers look for new cars after your showroom doors have shut for the night
MORE: SsangYong searching more more dealerships
MORE: Seat's extensive refurb programme is under way
On SuperUnleaded.com – Classic Porsche 959 Is So Stunning We Want To Buy It