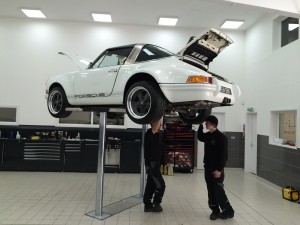 A PRESTIGE car dealer in South Yorkshire has expanded and will now offer MOT and servicing at its showroom.
John Holland, based in Meadowhall Road, Sheffield, and winner of Car Dealer Magazine's Dealers' Dealer of the Year Award last year, has added to its after-sales department with the opening of a new £200,000 in-house MOT and service area and state-of-the-art workshop.
The new workshop features all the latest diagnostic technology and has also created four new jobs.

Simon Miller, head of John Holland's after-sales department and previous master technician at Volvo, said: 'The opening of a new MOT and service department is great news for John Holland as it will allow us to offer our customers everything they require under one roof.
'At John Holland, we have enjoyed wonderful relationships with our growing list of returning customers over the years so it gives us great pleasure to be able to extend that relationship by offering MOT and servicing to existing and new customers.'
Since its establishment in 1975, John Holland has developed an enviable reputation for supplying the finest sports, prestige, luxury and 4×4 cars worldwide. The company, the current front-of-shirt-sponsors of Sheffield United, has expanded three times since 2012 and in 2014 reached an all-time high turnover of £29m with an estimated further 15 per cent increase for 2015.
MORE: We're on the lookout for more dealers, says MG

MORE: Kia celebrates record figures across Europe
MORE: Expanding Wessex Garages to open new Renault and Dacia outlet
MORE: Motorline Group supports local hospices with donations totalling £30,000
On superunleaded.com – Smart Car, Stupid Owner As Parking Fail Hits Next Level