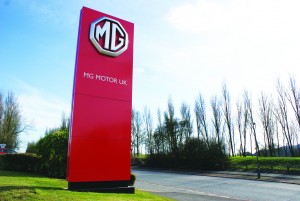 FOLLOWING successful sales figures for June and the first half of 2015, MG Motor UK is calling for more dealers, specifically smaller groups, to join the brand.
The latest new car registration figures, released by the Society of Motor Manufacturers and Traders, showed that MG's June 2015 performance was almost 20 per cent higher than last year; whilst the year-to-date saw a rise of just under 40 per cent.
Looking forward, MG's hopes to continue these successes is dependent on its growing and dedicated dealers and the loyal and supportive customers they serve. MG is calling for prospect dealers to join the franchise and be part of a company that cares more about building strong relationships than the colour of the tiles in the showroom.

Matthew Cheyne, MG's head of sales and marketing, said: 'We've had another great half-year, and we can only hope that the remainder of 2015 will be just as, if not more, successful for us.
'In order to achieve this, though, we need the right sort of dealers. We're looking for the smaller groups, perhaps family-owned, that have strong local relationships and are fed-up about how they are treated by other manufacturers.
'We want to work with dealers who strive to deliver a great service and have a say in how they want their franchise to go in the future.'
If you are interested in becoming part of MG's dealer network, contact Sue Kent, network development manager on 0121 251 3500.

MORE: Kia celebrates record figures across Europe
MORE: Expanding Wessex Garages to open new Renault and Dacia outlet
MORE: Motorline Group supports local hospices with donations totalling £30,000
On SuperUnleaded.com: Steve McQueen's modified Porsche up for sale, we ring the bank