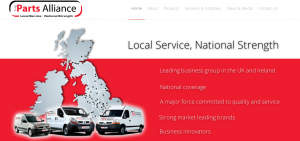 THE Parts Alliance, the UK's leading automotive parts buying and distribution group, is partnering with online servicing and repairs aggregator WhoCanFixMyCar.com.
The aim is to provide motorists with quality parts and value in their vehicle repairs and servicing through their local independent garage.
The partnership will also benefit The Parts Alliance customer garages through an increase in enquiries, along with fast and easy quoting and auto-parts purchasing processes.

Alistair Preston, co-founder of WhoCanFixMyCar.com, said: 'We are delighted to be working with The Parts Alliance. Co-ordinating with the 13 distributors within the group has taken some time but we wanted to ensure every business is aware of the potential benefits of the partnership and has readied their teams and systems.
'It has been great to get buy-in from everyone and we are moving forward to provide even more value to motorists and garages.'
WhoCanFixMyCar.com intends to grow its affiliated network from 5,000 to 12,000 garages by the end of 2015.
Peter Smart, head of marketing for The Parts Alliance, said: 'Partnering with WhoCanFixMyCar.com makes perfect sense for us.

'We will work closely with our garage customers to help them win business through WhoCanFixMyCar.com.'
'We're seeing fantastic results with garages recently signing up to WhoCanFixMyCar.com winning work straight away.'
MORE: Double-digit sales growth in third quarter for Inchcape
MORE: Dangerous tyres that should never have been sold
MORE: Garages caught out removing diesel particulate filters