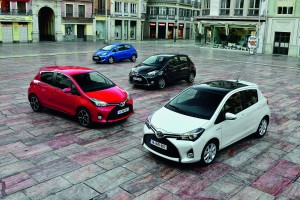 ALL concerns that Toyota dealers have raised about the outgoing version of the Yaris supermini have been addressed with the arrival of the new car.
That's according to Nick Higgs, UK brand manager for the Japanese manufacturer, who said that dealers had had an opportunity to air their views during the new Yaris's developmental process.
And although the work that's been carried out officially constitutes a mid-life facelift, the revisions recently unveiled actually go way beyond what one might expect.

Speaking exclusively to Car Dealer, Higgs said: 'This is a fairly significant facelift. A lot of attention has been paid to the interior design, and there have been quite significant chassis improvements to improve the ride and handling.
'You can also see by looking at the exterior that we have taken the car in a slightly more daring direction. For example, the X on the front gives it a little bit more attitude.
'Although it's a mid-life facelift, the work that we have done is much more than we would normally do at this point in a car's lifespan and we will hope it will make it even more popular.
'This is almost a new generation of the car, although it still uses fundamentally the same platform. You can see from the side profile that it's pretty much the biggest facelift that we have ever made.'

New Yaris officially goes on sale on August 1 with a starting price of £9,995 (including launch discount) for an entry-level Active model. In the new model line-up, the other three grades are the already-established Icon plus Sport and Excel.
Yaris Hybrid can be specified in Icon and Excel trims and three conventionally powered engines are available: a 1.0-litre and 1.33-litre petrols and a 1.4-litre diesel unit.
Higgs told us: 'The Icon model with the 1.33-litre engine will be our biggest seller in the range.
'But it is interesting to see what is happening with the hybrid version of the car. We get quite a lot of downsizing to the hybrid.
'The interest is coming not just from people who are keen on improving their fuel economy; it's now coming from people who are starting to recognise the smoothness, the quietness and the relaxed nature of the car.'