SELF-driving cars are being tested by a major manufacturer on UK public roads for the first time.
Nissan is testing prototypes of its Leaf model with enhanced autonomous driver technology on busy routes in east London.
The Japanese company is clocking up more than 300 miles as it develops fully autonomous vehicles with the aim of making them widely available by 2020.

Three Leaf cars are being taken on 25-minute round trips from the ExCeL exhibition centre to Beckton.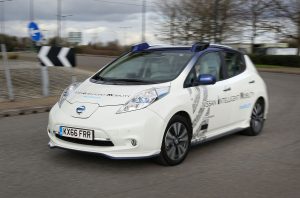 This involves a number of challenges, including roundabouts, lane changes, pedestrian crossings and speeds of up to 50mph.
But the Leaf cars have avoided collisions as they have 12 cameras, five radars and four lasers enabling them to identify surrounding objects and calculate their position on the road to within a few centimetres.
There is also a driver who can take control in case of an emergency.

Tetsuya Iijima, Nissan's global head of autonomous driving, said: 'The reason we're focusing on autonomous driving technology is safety.
'Around 93 per cent of accidents come from the driver. If a machine replaces human manoeuvres, that may be reduced.
'Safety enhancement is the first motivation.'
Single-lane autonomous driving will be featured in Nissan's Qashqai from next year, with fully so-called driverless cars on the market two years later.
But as Iijima conducted one of the east London tests, he warned the vehicles available in 2020 will have 'some limitation'.
He said: 'In scarcely-populated traffic the driver can be relaxed.
'We can explain to the customer, in that situation there's almost nothing you need to do.
'In this area (of east London) the driver needs to pay attention because the vehicle is not perfect.'
Small-scale tests of driverless car technology have previously been conducted in locations such as Milton Keynes, Greenwich and Bristol.
MORE: Ford slashes price of a new Fiesta by £1,000
MORE: Top Gear is back 'and is a massive improvement'
MORE: Aston Martin hypercar takes its name from the gods
On SuperUnleaded.com: Top Gear Purrs Into Life With New Series