HERE they are! Today we're delighted to publish the Nominations list of who is in the running for one of our prestigious Used Car Awards this year.
From the hundreds of names we received via the form we printed in the magazine and published online, these are the companies that have made it through to the next round of our hotly contested and much-prized event.
The first part of judging which whittled our nominees down to this first round saw online checks being made, including the analysis of industry feedback and customer reviews. They now face the mystery shopping phase – both online and in person – which has already begun.

The companies that emerge triumphant from this next stage will then be scrutinised by our judging panel – including TV's Mr Wheeler Dealer, aka Mike Brewer – to earn a place on our final shortlist.
Hosted by Brewer, this year's Car Dealer Used Car Awards are being held on Monday, November 25 at The Brewery in London, and everyone who books a table at our glittering ceremony will enjoy a terrific three-course meal plus free drinks all night – and, if they fancy it, plenty of dancing! We've even lined up a pre-awards drinks reception plus a fun casino for after the event.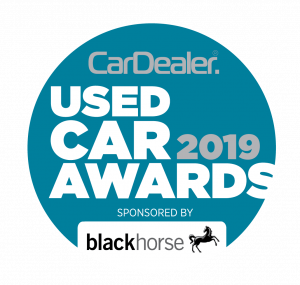 On the night, we'll be announcing two highly commended firms – something that those successful firms should be very proud of indeed – and our ultimate winners.
Now in their eighth magnificent year, the awards really are the gold standard in this backbone of the industry. They shine a spotlight on the best, brightest, smartest and downright nicest across the full spectrum of the used car trade.

Winning one of our Used Car Awards trophies or being highly commended is a huge accolade, because it truly shows how highly regarded the dealer is by their peers.
Event host Mike Brewer said: 'From the smaller independents to the larger groups, these awards are for every dealer in the used car business. The seal of confidence that the awards offer can be used to businesses' advantage, as they demonstrate to the public that they are the ones who can be trusted and relied upon – the dealerships to spend their money with.'
The awards are also a great opportunity to thank staff for all their hard work during the year and to entertain clients, especially in the run-up to Christmas.
For more information about booking a table, email [email protected] or phone the sales team on 023 9252 2434.
Well done to all those who are on the Nominations list – and good luck for the next stage!
The list of nominees
A Hussain Motors Ltd t/a My Next Car, ACC UK Ltd, Advantage 4 Vans, Amavans, ASK Motors, AutocarsUK Hull, Autopark UK, Available Car, Avili Motors Ltd
Beck Evans, Bells of Crossgar, Big Motoring World, Binley Woods Approved Used Cars Ltd, Birkdale Cars Ltd, Blackshaws, BMV Car Sales, Botley Car Centre Ltd
Car Quay, Carbase, Carpoint of Peterborough, Carrera Specialist Cars, Carshop, Cartime, CCS Car Sales Thatcham Ltd, Chequers Cars Lightwater Ltd, Chichester Cars Ltd, Clarus MotorPark, Classicmobilia
CM Cars NI Ltd, Cookswell Garage Ltd, Country Car, Croyland Car Megastore, Culm Valley Car Sales
Dani Motors, Davies Car Sales Ltd, DSI Performance Cars, Durham Cars4U
Efford Service Station, Emerald House of Cars
Fine Cars (Gosport), Fouracres of Thorney, Freeway Car Sales Ltd, FTR Performance, Future Vehicle Solutions
Gault, George Kingsley Prestige & Performance, Glasshoughton Car Sales, Gravel Hill Car Sales, Greg Mitchell Motors
Harrisons Garage Totnes, Hendy, Hilton Garage Ltd, Hogg Motor Co, Hyndland Motor Co
I&K Motors Ltd, Imperial Car Supermarkets, Imperial Carriages
JA Autos Ltd, James Glen Car Sales Ltd, Jerry Metcalfe, JM Cars Sales Ltd, JMC Stratford Ltd, Junction 17 Cars
Keywise Cars Ltd
Langley Prestige, Lawgistics, LNK Motors Ltd, London Motor Company (LMC Cars), LWF Car Sales
Mark Berwick Motors Ltd, Marshall, Martin Brothers Motor Company, Mastercars Hitchin, Matt Hogan Specialist Cars & Commercials, MB Motors Ballymena, McCarthy Cars, Moorelands, Morrison Motors Turriff, Motonet.com Ltd, Motor Connect Ltd, Motors For Less, Motorway Pro, My New Motor
Newmarket Motor Company, Norwich Van Centre, NottinghamCar.com
Otter Motors Ltd
Philip Raby Specialist Cars, Platinum Car Centre UK Ltd, Platinum Cars Sales Merthyr Tydfil, Portland of Bawtry Ltd, Premier GT, Prestige Cars Berkshire
Redgate Lodge, Red Rose Cars Ltd, Reed Autos, Riverside Motor Group, Roadside Garages Coleraine Ltd, Romans International, Ron Skinner & Sons, Rousdon Car Centre, RS Car Sales – Cheshire
Sandal Auto, Saxton 4×4, Smallbone & Son Cars, Snows, Specialist Cars Stoke, Spencers Car Sales, Sportif Citroen, SRK Specialist Cars, Stuart Evans, SuperMiniUK Ltd, Sutton Automotive, SW Car Supermarket, Swansway Garages
Tand T Motors, Targa Florio Cars Ltd, TC Harrison, Thame Cars, The Premium Car Collection Ltd, The Professional Car Agent Ltd, The Trade Centre Wales, Totally Trade Direct, Trade Centre UK, Trade Price Cars, Trophy Cars
UK Car Sales
Victory Car Sales Ltd, View Automotive, Voldi Ltd, Voy Trade Centre
Weybridge Vehicle Consultants, White Dove Seat, WMS, Wrights Motors, Wynyard Motor Company
Yeomans, Your Best Car
Pictured at top is the exterior of The Brewery during the 2018 Used Car Awards
MORE: Terrific night on the cards thanks to backers of Used Car Awards!
MORE: More sponsors sign up for Car Dealer's Used Car Awards 2019
MORE: Who won what at the 2018 Used Car Awards?