Here are the headlines on Wednesday, October 14
PM under pressure as scientists say circuit-breaker may save lives
A 'circuit-breaker' lockdown could save thousands of lives by the end of the year, scientists advising the government have calculated, as pressure mounts on Boris Johnson to impose stricter restrictions.
As the three-tier Covid alert level system comes into force across England, the PM is facing calls to go further by introducing a fortnight of nationwide curbs to bring the coronavirus resurgence under control.

Downing Street is understood to be keeping the idea on the table. A paper by members of the Scientific Advisory Group for Emergencies (Sage) calculates that more than 7,000 lives could be saved if schools are closed and people are ordered to stay at home from October 24 for two weeks.
Apple unveils four 5G-powered iPhone 12 devices
Apple has unveiled the new iPhone 12 in four variations, each with high-speed 5G connectivity for the first time.
The new Apple line-up includes a smaller iPhone 12 mini, which has a 5.4-inch screen and will start at £699 as Apple looks to increase its price options for potential customers. 

It is joined by the 6.1-inch screen iPhone 12, the iPhone 12 Pro which also has a 6.1-inch display and the 6.7-inch iPhone 12 Pro Max. They have new designs and will no longer ship with a charger or headphones.
PM to speak to European Commission president
Boris Johnson will speak to the president of the European Commission this afternoon as his deadline for progress in post-Brexit trade talks draws near.
The Prime Minister is expected to discuss progress in the negotiations with Ursula von der Leyen ahead of tomorrow's summit of European Union leaders.
Johnson wants to know if a trade deal is possible by Thursday, when the leaders of the 27 EU countries meet in Brussels. He told Cabinet ministers yesterday that he still believes an agreement can be reached.
PayPal launches interest-free instalment payments system 
PayPal has added a feature which allows people to pay for items in three instalments as part of efforts to boost sales for UK businesses in the run-up to Christmas.
The new Pay in 3 tool will enable businesses using the payments service to offer customers the ability to pay for goods over three, interest-free instalments, automatically taken each month.
The tool will be available for purchases between £45 and £2,000, with businesses receiving the full cost of the purchase upfront from PayPal to ensure continued revenue for the firm while providing more payment options for customers, PayPal said.
New Q8 TFSIe has plug-in hybrid efficiency
A new hybrid version of Audi's range-topping Q8 SUV has been introduced, bringing the German firm's tally of plug-in models to seven.
The new car, badged Q8 55 TFSIe, combines a V6 petrol engine with an electric motor and batteries for improved efficiency. As a result of the setup, the Q8 will travel for up to 28 miles on electric power alone. 
Two variants will be available in the UK – the standard 55 TFSIe quattro and the Competition 60 TFSIe quattro. Both are available to order later this month, priced from £73,860.
London markets slip after UK unemployment surges
The London markets and the pound both tumbled on a torrid day for UK traders after new figures revealed a surge in unemployment in the face of the pandemic.
Sentiment slid after the Office for National Statistics revealed a 138,000 jump in UK unemployment between June and August – the largest increase since summer 2009.
The FTSE 100 closed 31.67 points lower at 5,969.71 at the end of trading yesterday. The German Dax decreased by one per cent, while the French Cac moved 0.74 per cent lower.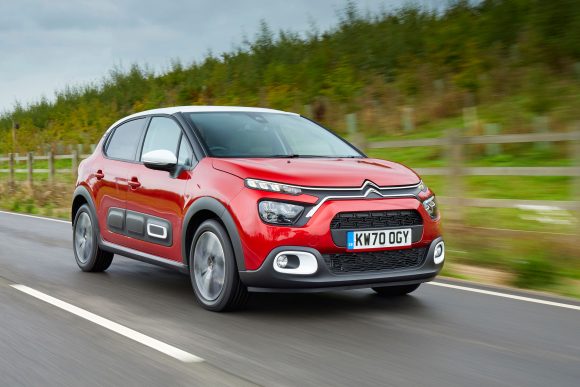 Citroen announces CO2 reductions across C3 range
Citroen has introduced a range of more efficient components for its three-cylinder-powered C3 range which has resulted in a drop in CO2 emissions for its popular hatch.
Available on the new C3, the developments have been a new battery fitted to those cars using a manual gearbox, while the entry-level PureTech 83 model has also been given a new alternator in order to improve efficiency. 
All new C3 models will get a fuel consumption meter fitted as standard, ahead of regulations due to be implemented in January 2021 which will see this technology made mandatory.
PureGym eyes legal challenge over Liverpool gym closures
The UK's largest gym chain, PureGym, has said it is considering legal action over the government's decision to close gyms and fitness centres in Liverpool.
CEO Humphrey Cobbold said the move, which will see it close seven sites in the Liverpool City Region, will actively contribute to the 'wilful destruction' of the sector.
He urged the government to present data to support the closure of gyms and fitness sites, claiming that there is 'no evidence of Covid-19 transmission in gyms'.
BMW second-life solution rolled out
BMW has developed a new way of giving old batteries a second life by adapting them for use as mobile power units.
Made in collaboration with energy storage experts Off Grid Energy, the retired batteries will be adapted when they can no longer be efficiently used in cars.
Both BMW and Mini electric car batteries have a warranty of up to eight years or 100,000 miles. After this period, BMW says, the battery could still retain up to 80 per cent of its original capacity. However, even the German firm admits that it is 'inevitable' that at some stage the battery will no longer be able to provide the optimal amount of charge required by an electric car.
Sunshine on the way
Today there will be scattered showers across much of Britain, heavier and perhaps more persistent in parts of south and southeast Scotland, says the BBC. There will be sunny spells between the showers, and it'll be windy for most and feeling cool.
Tonight, there will be a few light scattered showers, patchy cloud across much of Britain, and it'll be cloudier in Scotland. It will feel chilly for all with a north-easterly breeze.
Tomorrow will be mostly dry with sunny spells and patchy cloud, but there will also be some light showers for eastern coasts of Britain.