Managing director Georgina Wood described the unique experience of running such a specialist dealership as P&A Wood on Car Dealer Live.
P&A Wood was set up by her father – as Georgina puts it the 'P' – and uncle. The business is now the only Rolls-Royce authorised ancient repair agent for the UK and specialises in selling all types of Rolls-Royces and Bentleys with his official heritage status.
Paul and Andrew Wood started the business in 1967, and it was in 2007 that Georgina started at the business as a brand manager for Rolls-Royce when they began selling the new models. In 2017 she then took over as managing director. 

Speaking with James Batchelor on the show, Wood said: 'What we find today, is you've got your enthusiasts, and your enthusiasts just love it all no matter what else is going on in the world. Although you have these peaks and troughs where Rolls-Royce as a manufacturer was popular or not, there's always a demand for what we do.'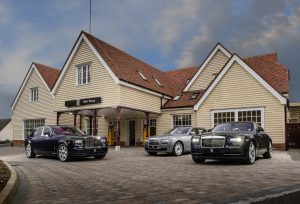 From the very start, it was the attention to detail that set them apart, as she explained that when the founders serviced a car they would clean the engine too – something almost unheard of. 
She added: 'They never had dull moments. They were always busy, very often they were working through the night to get things done. That's what made the business, that they would go that extra mile.'
Georgina spoke on Car Dealer Live, sharing how their very different dealership and workshop runs, the experience of selling both new (from their showroom pictured above) and old Rolls-Royce and Bentley, and how their customers want to shop. 

P&A Wood is quite unique, as she explained, saying 'We usually do a lot of tours and let people see the various stages of restoration'. They also create unique personalisation options to meet owners specific requirements. 
To hear all about it, click play at the top of this page to watch the interview in full. 
If you have any questions you'd like to ask any of the above you can submit them live during the broadcasts or you can send them to us via this website, or our social media channels including Twitter and LinkedIn.
You can watch all of our Car Dealer Live interviews by clicking here.