A COUPLE who took part in a Peugeot RCZ drivers' day organised by their local dealership added a touch of romance to the occasion – by getting engaged during the event!
Steve Platt and Anne Longworth, who live in Weston, Cheshire, were invited to take part in the day by Gateway Crewe.
It's an event the dealership has organised annually for the past five years and involves participants meeting up at the showroom before driving off to a mystery destination, which this year was the Llangollen steam railway in Denbighshire.

Sales executive Keith Lloyd, who has worked at Gateway Crewe for 24 years, said: 'We went there as there was a vintage car rally on that weekend, as well as a steam railway weekend. We were able to join in the fun and even had our customers' cars as displayed as exhibits.
'We all enjoyed a steam train journey and had a waitress serve us afternoon tea with champagne in our own private railway carriage.'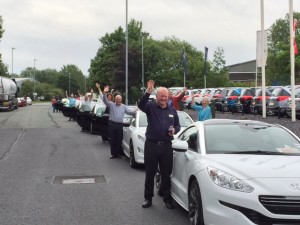 The surprise marriage proposal came when Steve popped the question on the footplate of the steam train in Llangollen.
Keith said: 'Both Steve and Anne have been on our RCZ driving day four out of the five times that we have organised it. Everyone was delighted by the marriage proposal and it made a hugely enjoyable day even better.

'I spoke to Steve recently and he's wondering if the wedding will be able to top the engagement! He said he felt very nervous but that the claps, cheers and hugs from everyone made it a fantastic occasion. And both Steve and Anne want to involve the RCZ drivers in their big day next year.'
MORE: Expanding Wessex Garages to open new Renault and Dacia outlet
MORE: Motorline Group supports local hospices with donations totalling £30,000
MORE: Honda brand welcomed to Evans Halshaw with opening of new Bedford site
On SuperUnleaded.com: Steve McQueen's modified Porsche up for sale, we ring the bank