THE iPad version of the latest issue of Car Dealer is now ready to be downloaded – and contains everything you need to know about CDX17!
To be held at Silverstone on May 23, CDX is the biggest automotive industry expo in the UK. As we explain in issue 107, you'll be able to hear Google, Twitter, Facebook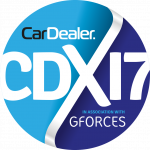 and Instagram give keynote talks, listen to the biggest dealers and manufacturers on the Live Stage and get best practice advice from experts in a series of workshops.
It's totally FREE to attend for dealers and you can get your tickets here.

Issue 107 is also our annual Automotive Influencers edition. The great and the good of the automotive industry give us their views on a variety of subjects, such as scrappage, Brexit and the likelihood of a downturn in the number of new car sales this year. Big hitters such as Ford boss Andy Barratt, Lookers CEO Andy Bruce and Honda chief Philip Crossman are included in our panel this year and the iPad edition comes with exclusive video footage too.
Also in issue 107, we have four pages of statistics and analysis around the SMMT new car registration figures for the whole of 2016. As usual, Ford topped the sales charts and we sent Rebecca Chaplin to a Blue Oval dealership to learn a few of the sales techniques that help them do so well.
James Baggott, meanwhile, went to the first big motor show of the year – in Detroit – and names his top 10 favourite cars on show there.
New models under the microsope include the Nissan Micra, Suzuki Ignis and BMW 5 Series.

With the usual array of entertaining columnists such as James Litton, Big Mike and Ben Garside, plus the regular dose of invaluable legal advice from our friends at Lawgistics, issue 107 is not to be missed!
Download the iPad edition here for FREE
MORE: Diesel scrappage scheme 'is on its way'
MORE: Autocar Awards are returning to follow CDX at Silverstone
MORE: Innovative 'Porsche Life' pop-up store opens in Leeds
On SuperUnleaded.com: Drones Are Finally Being Put To Good Use