PORSCHE has opened a stylish pop-up store in a Leeds shopping centre.
Guests are invited to experience 'Porsche Life' via interactive experiences designed to span the breadth of the German sports car manufacturer's identity.
These include insights to the iconic 911 coupe, the racing heart in the spirit of the 919 Hybrid LMP1 race car, and also hints towards the exciting future direction of the company with the Mission E, the first all-electrically powered four-seat Porsche.

Designed as a relaxing and informal environment, key elements of what makes a Porsche a Porsche are available for visitors to interact with in the store at Victoria Gate shopping mall.
This includes an exploration of the 'Sound of Porsche', gesture control screens that open up the world of Porsche, and various opportunities to get closer to the character of the company and its cars.
These different aspects are presented in the context of a living room, kitchen, lounge area and home office – and each of these motifs are designed to hint at how a customer's 'Life' with Porsche could look.
There is no overt sales process in place. Each Porsche Life Experience is designed around the concept of an innovative, urban meeting point, and to share a coffee and the Porsche spirit with fellow enthusiasts.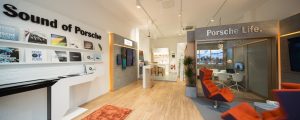 Should they wish, visitors can easily seek out further information and assistance. There is a link with the local Porsche Centre, whose staff can arrange test drives.
Created and managed by Porsche Cars GB, the Victoria Gate Pop Up Experience is hosted by staff from the JCT600 dealership Porsche Centre Leeds.
Ragnar Schulte, general manager, marketing, Porsche Cars GB, said: 'Porsche Life offers every visitor the opportunity to explore first-hand the stories and legends that underpin the Porsche brand.
'Whether looking into the Porsche future or admiring today's iconic sports cars, the blend of a bespoke, innovative environment offering digital interactivity is designed so guests of all ages, fans, enthusiasts and customers, can feel welcome to have a chat over coffee.'
Porsche factory race driver and 2015 Le Mans 24 Hours winner, Nick Tandy, is official 'Porsche Life' ambassador. This season, he is combining his global motorsport commitments with a new role as a Carrera Cup GB team manager, and will be supporting various activities around the Pop Up Experience.
Tandy said: 'My work takes me all over the world racing for Porsche, so naturally I am proud to support Porsche Cars GB as it takes the brand ''on the road'' in my home country.
'With victories in the 911 and 919 Hybrid LMP1, I have experienced first-hand how Porsche and its technologies have developed on the race track, particularly in the area of high-performance, high-efficiency engines, and it is exciting to see these innovations transferring to the road cars.'
There are a total of 10 similar shops planned over the next two years, each open for approximately two months. The venues next in line span the breadth of the country and include Brighton, Dundee, Hull, Liverpool and London.
MORE: Dealer group's £4m bid to beat April car tax shake-up deadline
MORE: Euro NCAP marks 20th anniversary with old vs new crash test
MORE: More to discover than ever on the Car Dealer Live Stage at CDX
On SuperUnleaded.com: Alfa Romeo Should Make This For Everyone's Happiness