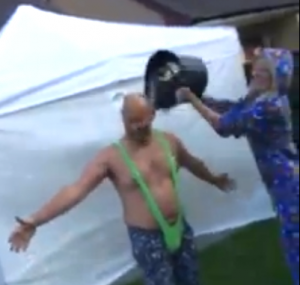 THERE'S no end in sight to the ice bucket madness!
Last week we reported how Ben Lowe from Burrows Toyota took part in the ice bucket challenge to raise money for Macmillan Cancer Research.
And now Car Dealer Magazine reader Jim Reid has taken things one step further – he's thrown the #CAPKnickersNominate challenge into the mix as well.

The #CAPNominate challenge began in February after a simple tweet conversation between CAP and Tesco lead to the car information experts nominating dealers to wear novelty leggings.
The latest dealer to be nominated was Aberdeenshire-based car dealer Jim Reid – and he combined his nomination with the ice bucket challenge and was dressed in a Borat-style mankini as well!
The two challenges were filmed and posted on Reid's company Facebook page. You can watch the chilly challenges below.