The RAV4 has been given a makeover, but can it compete against its rivals? Jack Evans went to Spain to find out.
What is it?
The RAV4 is a well-established household name, generating thoughts of reliability and decent road handling with every mention. This latest version hopes to add to that, completing the package with improved economy and higher levels of equipment. The new electric powertrain is a big step forward too, with Toyota now not offering any four-wheel-drive diesel option, in favour of the hybrid setup.

What's under the bonnet?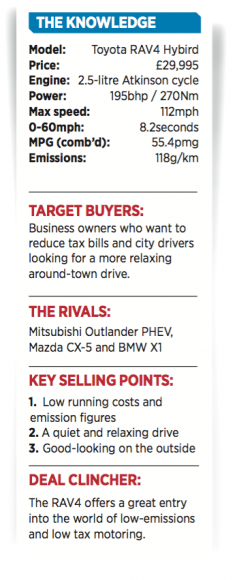 The hybrid utilises a 2.5-litre Atkinson cycle petrol engine linked to an electric motor. In four-wheel- drive models, this means there's a small electric motor at both the front and rear axles. The hybrid system produces 194bhp and 270Nm of torque, powering the RAV4 to 62mpg in 8.4 seconds. Being a hybrid, emissions figures are low with the RAV4 returning an impressive figure of 118g/km CO2 and a claimed combined consumption figure of 55.4mpg.
What's the spec like?
Toyota has made a valiant attempt to increase the quality of the materials in the cabin, and for the most part it has succeeded. Yes, in places there are slips – the plastic on the top of the dash is chocolate-box scratchy – but it's not such a bad place to sit. It's worth mentioning that the only specifications to get satellite navigation as standard are the Business Edition and Business Edition Plus models. For all other models, that's going to be an extra.

What's it like to drive?
Around town the hybrid set-up is a dream. Quiet and refined, it works a treat. Add a bit of speed, however, and you'll be rewarded with a drone that'll remind you of your vacuum cleaner. The noise is also accompanied by no discernible increase in pace – despite Toyota claiming that they have 'engineered' gears into the CVT gearbox. Wind noise from the wing mirrors is noticeable, too – and in a hybrid vehicle this is even more of an unwelcome intrusion.
What do the press think?
Auto Express said: 'The updated Toyota RAV4 is better looking than ever before, and now features a tax-busting hybrid powertrain that will really appeal to company car buyers.'
What do we think?
It's easy to see why, on paper, the RAV4 Hybrid is a good choice. However, behind the wheel it's a different story. Unfortunately, the racket on acceleration is a little too much to ignore and its roly-poly cornering style could get a little annoying after a while.
MORE: 500 and counting! Have YOU registered as a delegate for CDX16 yet?
MORE: Road test: Volvo XC90 T8