FLASHY seven-seat SUVs appear to be the latest industry trend. Can Volvo keep ahead of the game? Sophie finds out…
What is it?
This is the range-topping variant of Volvo's highly-rated XC90 – the T8 'Twin Engine' plug-in hybrid. Essentially, this is still the same big friendly giant that stole our hearts in 2015 – based on the same trusty platform as the sturdy D5 diesel and pokey T6 petrol – only the T8 is crammed with a wealth of extra gadgets as standard and has an even smaller carbon footprint – but only when it's running solely on electric charge.

What's under the bonnet?
Lift the hood and you'll find the same 2.0-litre, four-cylinder engine that powers the other XC90s in the range, only this one is a little more special. The petrol unit in question is both supercharged and turbocharged to ensure maximum response at both low and high revs. This 320bhp powerplant is also linked to an 87bhp electric motor, which drives the rear wheels and bumps the total power output up to 407bhp and 640Nm of torque. It's powered by batteries, which can be charged by plugging the car into the mains and offers a pure-electric driving range of 27 miles.
What's the spec like?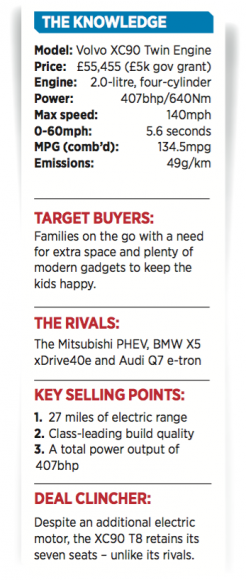 Bold yet brilliant. Once again the XC90 is available in three trim levels: the entry-level Momentum, the mid-range R-Design and range-topping Inscription. The XC90's clever HMI (Human Machine Interface) infotainment system is a class-leader in terms of in-car technology and user- friendly controls, with the dash thoughtfully laid out.

What's it like to drive?
Impressive. Once again, the Swedish carmaker has hit the nail on the head with XC90. It's seamlessly smooth, refined and pokey, too. As standard, the T8 is equipped with six driving modes. This means it can run solely on the electric motor, the driver can choose to store the battery charge for later, or they can leave it to do the hard work for them by leaving it on the default hybrid setting. In truth, the XC90 doesn't feel like a 400bhp car that can hit 62mph in 5.6 seconds – But it weighs 2343kg.
What do the press think?
According to Auto Express, the XC90 T8 is a 'technological showcase for Volvo, and the way it drives hasn't been compromised at all'.
What do we think?
Volvo has hit the sweet spot with the T8. Its clever layout means the additional electric motor hasn't compromised interior space. The XC90 is arguably the most convenient and technologically advanced car on the market, but it isn't cheap at £60k.
MORE: 500 and counting! Have YOU registered as a delegate for CDX16 yet?
MORE: Road test: Nissan Navara