THE 2018 Used Car Awards are now just a few weeks away! And today we can reveal the shortlist of potential winners who are in the running for one of our highly sought-after trophies.
The dealerships, workshops, manufacturers and suppliers listed below are now the only ones remaining who are eligible for gongs at the awards – often described as the Oscars of the UK's used car industry and organised each year by Car Dealer Magazine.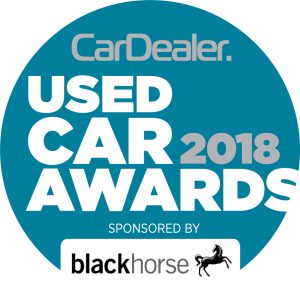 Certain aspects of the judging process have been completed and we have already eliminated a large number of nominated businesses and individuals.

It might sound like a tough, uncompromising process – and that's because it is! The standard of entries gets higher and higher every year and only the best of the best will emerge triumphant.
Now under way is a second stage of scrutiny, research and mystery shopping before we reveal the final five-strong shortlist in each category.
At the awards ceremony itself – which will be held at The Brewery in London on Monday, November 26 – the five shortlisted businesses or individuals up for each award will all have their names read out by our host for the evening, TV's Mike Brewer.
Mike will then reveal the two highly commended winners in each category before announcing the name of the overall winner – and that will be an achievement truly worth shouting about!

In the meantime, here is our shortlist – and many congratulations to everyone listed below. You have already done extremely well to get this far!
A-E
ACC UK Ltd; Alexanders Prestige; Beck Evans; Belgrave Motor Company; Blackshaws; BMW; Carbase; Car Quay Ltd; Cartime; CarSynergy-UK; CCR Motor Co; Cedar Specialist Cars; Click Dealer; Codeweavers; Crescent Motoring Services; Dealerweb; Dick Lovett; eCarLogical; eCars247; Eddie Wright Car Supermarket.
F-L
FastFit Airdrie; eDynamix; Emerald House of Cars; Elite Preowned Vehicles; Enkae Prestige Motors; GardX; Grashion Automotive Solutions; Grovehurst Cars Ltd; Hammond Cars; Harris Motor Company; Hendy; Hyundai; I&K Motors; Imola of Bristol; Imperial Cars; Independent Cars Ltd; Jaguar; James Glen Car Sales; Jim Monaghan Car Sales; Kia; Land Rover; LNK Motors Ltd; London Motor Company; Lookers.
M-R
Marshall Motor Group; MasterCars Hitchin; MB Motors; Mercedes-Benz; Mitsubishi; Motonet; Motor Connect Ltd; Motorforce; Network Q; New Forest Cars; Newmans Suzuki; Oakdale Garage; Otter Motors; Paragon; Peugeot; Premier GT; Prestige Cars, Kent; Quirks Car Company; Redgate Lodge; Redrose Cars; Reed Autos Ltd; Premier Autocentres; Roadside (Garages) Ltd; Romans International; RG Car Sales; RS Car Sales.
S-T
SM Specialist Cars; Smallbone & Son Cars; Specialist Cars of Stoke; Springfield Autocare and Car Sales; Sports Purpose; SRK Specialist Cars; St Albans Car Centre; Supermini UK; Sussex Used Cars; SW Car Supermarket; Swale Auto Sales; Targa Florio Cars; The Premium Car Collection; The Professional Car Agent; Thame Cars; Totally Trade Direct; Toyota; Trade Cars 4 U; Trade Price Cars.
U-Z
Uber GT; Vauxhall; Victoria Cars; Volvo; Warterfront Cars; Weybridge Vehicle Consultants; Whitethor Cars; Wrights Motors of Downham Market; Worleys Garage (Citroen); Yorkshire Car Supermarket; Yorkshire Vehicle Solutions.
MORE: Planning a Christmas party? Why not join us at the Used Car Awards?