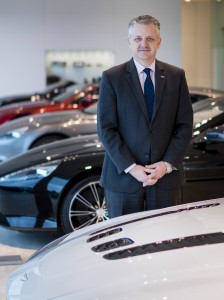 ASTON Martin Works is increasing its sales force for both new and used cars in response to a growth in business.
The business is also preparing for what they predict will be a busy 60th anniversary year in 2015.
Leading the line in the expanded Aston Martin Works sales force is Justin Pearce, 47, who joins the business as general sales manager. Pearce is an Aston Martin expert thanks to his ten-year association with the brand.

He said: 'I'm thrilled to join the team at Newport Pagnell. I see it as a fantastic opportunity to support the strong sales growth that's taking place at Works and, of course, I relish the privilege of working at the historic home of Aston Martin.'
Pearce is joined in the sales team by new apprentice sales executive Tom Reinhold, 25, who has been taken on at Aston Martin Works to both support the sales function and learn the luxury sales business.
Reinhold joins Aston Martin Works from The Beaulieu Motor Museum where he worked as an events co-ordinator.
He said: 'I'm a true car enthusiast with a huge passion for both new and vintage sports cars – so to have the opportunity to learn my trade at Aston Martin Works really is a dream come true for me!'

Commercial director at Aston Martin Works Paul Spires said: 'I'm very happy that we have been able to strengthen our sales team so effectively.
'These additions are the clearest sign yet that we are determined to keep delivering the excellent sales service that our loyal customers rightly expect and demand.'
MORE: Disgruntled customer dumps dealership with more than £9,000 worth of coins in fish juices
MORE: Could the 'Concorde' of sports cars be heading to the UK?