It's time to get to grips with the technology and deal with the misconceptions, says Sean Kemple.
I saw a recent poll by a specialist car retailer where one of the questions asked was, 'On a scale of one to five, how much do you like electric vehicles?'
In the answers, 39.5 per cent of the respondents were sitting on the fence with a score of three, while at one end of the scale 16.4 per cent said they loathed them and only 7.8 per cent said they loved electric vehicles.

Interestingly, in a follow-up question, respondents were asked, 'How bright is the future for alternative/electric supercars?'
This time an overwhelming 75 per cent of respondents stated the future was 'bright/very bright', with only 3.8 per cent at the other end of the scale saying 'not bright'.
This led me to question how much we are moving forward with the perception of electric and alternatively fuelled vehicles – particularly with demand for alternative fuels being driven by both legislation and customer sentiment.
The stats bear this out as adoption so far has been relatively mild. For the year to date we have seen an increase of 0.6 per cent in new electric vehicle sales while the pace is a little faster with plug-in petrol hybrids – up 29 per cent on 2017.

So will there be a tipping point at some point soon? Elon Musk, CEO of Tesla, has said: 'We must at some point achieve a sustainable energy economy or we will 
run out of fossil fuels to burn and civilisation will collapse.'
That's compelling for the tipping point.
Advances in technology
Perceptions are shifting, albeit slowly. For example, we have seen the rise of Formula E, with the fourth season last year seeing two cars used per driver per race due to battery charging, reaching top speeds of 140mph. For the fifth season starting in December, vehicles are predicted to have enough battery power for one race, reaching speeds of 170mph.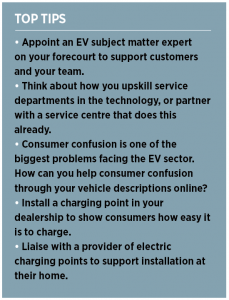 Car manufacturers continue to use motorsport racing to develop their innovation with battery technology.
This has been the norm for many years since the 24 Hours of Le Mans allowed hybrids to showcase the reliability of these vehicles and encourage adoption of the trusty workhorse.
Addressing customer concerns
Barriers to entry are clearly the main reason we are not seeing adoption at the pace we would expect, with consumers citing range anxiety, cost and infrastructure as the primary concerns. Dealers can help address these concerns with simple fact-finding, asking the right questions to identify the customers' needs so they can better position electric vehicles for individuals.
Customers can overestimate their anticipated mileage, and in conversations with their dealer realise that a typical electric vehicle range is more than sufficient to serve their regular journeys.
The average journey in the UK is 8.7 miles, yet most fully electric vehicles are capable of 100 miles-plus and forecast to increase to 200-plus in the early-2020s. In addition to this, we know most vehicles sit unused for long periods during the day, providing ample charging time if needed.
For the cost-conscious there is an emerging used electric vehicle market if a new car is cost-prohibitive. There are, of course, finance options too, with companies like Close Brothers Motor Finance offering fixed-rate, pay-monthly options to help customers drive the car they want.
We have a clear policy for underwriting electric vehicles, and that includes vehicles with owned or leased batteries, to support our dealer partners and their customers.
We view this as an important step towards a 'brighter future' for electric vehicles and a greener Britain over the long term.
Dealers need to be ready for the EV revolution
Dealers will be ultimately driven by consumer demand in this space, and we know that is starting to change. Keeping abreast of customer sentiment and adoption of alternative fuels will put dealers in a strong position.
Supported by the government, investment in infrastructure is increasing across the UK and developments in technology coupled with the public interest represents a strong future opportunity for dealers to be ahead of the curve.
Dealers should ensure they understand the new technology and the common misconceptions that surround electric vehicles so they can provide expert advice and help sell the benefits to their customers of tomorrow. The future begins now.
Sean Kemple is director of sales at Close Brothers Motor Finance, one of the UK's leading providers of motor finance. The company works with over 8,000 dealers and provides finance for new and used cars, LCVs and motorcycles, caravans and motorhomes. Go to closemotorfinance.co.uk to find out more.