Compliance is crucial and dealers need to be familiar with the regulatory landscape, says Sean Kemple.
THE automotive industry is ever evolving. Customer demand and buying behaviour is changing, technology continues to advance and the economic environment we're operating in remains uncertain.
The regulatory landscape is no different, and oversight and compliance is an area that is gaining more and more attention.

The role of the automotive dealer is expanding. No longer are dealers solely experts in selling vehicles, they now also need to have a solid understanding of marketing, advertising and, of course, compliance. This article attempts to provide an overview of what you need to know and where to find more detail.
Financial promotions
The FCA defines financial promotions as any content which is an 'invitation or inducement to engage in consumer credit and/or consumer hire activities'. This covers all channels and would include website content, social media posts, adverts, videos and marketing emails.
Your financial promotions content must:
• Be clear, fair and not misleading
• Be accurate
• Be identifiable as a financial promotion
• Give a balanced impression of the 
relevant products
• Not disguise or diminish important warnings or statements relating to the product on offer
As well as the FCA, there are a number of other regulators you need to be aware of when advertising to your customers, such as the ASA and Trading Standards. More details on how to comply with these regulations can be found on the compliance and regulation support page on our website: closemotorfinance.co.uk/dealer/resources-and-support
Common website mistakes to avoid
We have found that common mistakes when displaying consumer finance-related information online tend to occur around:
• Using a finance company's logo without authorisation and/or incorrectly
• Not disclosing details of the finance provider or the capacity in which you (as a dealer) are acting
• Failing to display a representative APR when 
it is triggered
• Failing to include appropriate finance 
small print
• Misuse of click-throughs (beyond the industry standard 'one click-through principle')
• Inaccurate use of images sitting alongside finance offers which have the potential to mislead.
If you only want to include your finance partner's logo on your website, this is not considered a financial promotion providing you ONLY mention the trading name or logo. You do, however, still need their permission to do so.

Representative APR
If you want to display a rate of interest or an amount relating to the cost of credit (ie, a monthly payment amount) on your website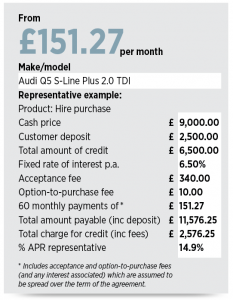 you must display this information in a representative example, such as the one shown here.
All of the information within a representative example should be:
• Clear and concise
• Titled 'Representative Example'
• Given equal prominence
• No less prominent than any other information relating to the cost of credit or any 'trigger'
If the APR is 0 per cent, there is no need to display a representative example.
You should not repeat any of this information outside of the table either.
There are a number of 'triggers' which will require a representative example, and a full list of example 'triggers' can be found in our 'Dealer Guide to Financial Promotions Online' accessed via our website at closemotorfinance.co.uk/dealer/resources-and-support
The necessary small print
If you offer finance to your customers, you are authorised by the FCA to act as a credit broker on behalf of your lender. This means you need to display the following on all financial promotions:
• Your legal name (as it appears on the Financial Services Register) and not merely a trading name
• That you are a credit broker and not a lender (unless you are also a lender, in which case you must confirm in which capacity you are acting)
• The extent of your powers and in particular whether you work exclusively with one or more lenders or work independently
• Finance terms and conditions relating to the finance product offered
We have provided wording examples in our 'Dealer Guide to Financial Promotions Online' – please see closemotorfinance.co.uk/dealer/resources-and-support
Our top tips
1. Consider the legal requirements as early as possible
2. Be clear, fair and not misleading at all times
3. Keep financial promotions simple and transparent
4. Give prominence to important information and restrictions
5. Keep small print simple and legible
6. Ensure the technical legal requirements are met
7. Never misinform or mislead a consumer
8. Small print is an opportunity to expand upon an offer, not introduce new or contradictory information
9. Seek independent legal advice if you are unsure
10. Ensure material always gives a balanced view of an offer, product or service
At Close Brothers Motor Finance, we pride ourselves on the compliance support we offer our dealer partners.
To find out more, please speak to your account manager, or visit the resources and support page of our website to download a number of practical guides to protect your business and do right by your customers.
Sean Kemple is director of sales at Close Brothers Motor Finance, one of the UK's leading providers of motor finance. The company works with over 8,000 dealers and provides finance for new and used cars, LCVs, motorcycles, caravans and motorhomes. Go to closemotorfinance.co.uk to find out more.