ŠKODA has released a pair of new teaser images for the upcoming Kodiaq vRS, with the performance-focused SUV debuting in full in October.
The new pictures still disguise many key design details for the car, but the silhouette of the Kodiaq is clear, along with some racier additions.
Notable is a lower front splitter, which seems to give the SUV a more aggressive look. Little else is revealed, although large alloy wheels are also plainly visible.

Full technical specifications have yet to be revealed for the vRS, but the Czech car manufacturer has confirmed it will be powered by a 2.0-litre twin-turbocharged diesel engine producing 236bhp.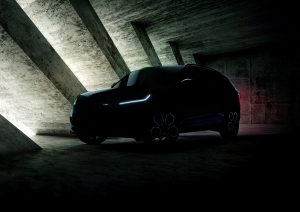 Despite still being cloaked in relative secrecy, the Kodiaq vRS already holds a record around the Nürburgring. In June, German racing driver Sabine Schmitz got behind the wheel of a heavily camouflaged version of the SUV to set a 9:29.84 lap time – a record for seven-seaters around the 12.9-mile 'Green Hell'.
Speaking after the lap, Schmitz said: 'Škoda has made full use of its large SUV's potential with the Kodiaq vRS. I can certainly imagine that I'll be encountering the Kodiaq vRS regularly during my laps around the Nordschleife in future.'
The Škoda Kodiaq vRS is set for a full public reveal at the 2018 Paris Motor Show, which takes place from October 4 to 14.

The Kodiaq will be the second current vRS offering in the UK, alongside the Octavia. Previously, the performance trim was available on the Fabia hatchback, but it has yet to be introduced for the model's third generation.
MORE: Digital car showroom proves a winner for Škoda
MORE: John Mulholland Motors scoops Škoda UK's top retailer award for third year
MORE: VIDEO – Sir Bradley Wiggins surprises customers at Mitchell Škoda Chester