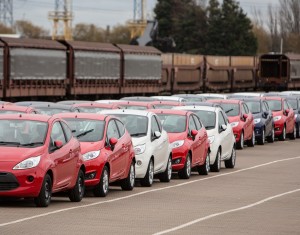 FIGURES released today by the SMMT show 492,774 cars were registered in the plate-change month of March – the best month since the twice-yearly number plate changes were introduced in 1999.
New products and attractive finance packages underpinned by low interest rates helped deliver this record result. The fleet sector led the way with 11.6 per cent year-on-year growth, reflecting the economic confidence currently felt by UK companies.
Registrations so far this year have increased by 6.8 per cent to 734,588.

The 37th month of consecutive growth for the new car market shows the continuing demand for new products and new fuel-efficient and advanced technologies.
The UK market surpassed pre-recession levels some seven months ago, helping bolster the economy and drive it out of recession. This growth, supported by domestic manufacturing, has attracted more than £14 billion of investment since 2011, creating almost 30,000 additional jobs.
Mike Hawes, SMMT chief executive, said: 'The best month this century for new car registrations is a welcome boost for the UK's thriving automotive sector.
'The challenge for a new government and industry will be to maintain this momentum and to strengthen Britain's manufacturing capabilities through continued investment, innovation and policies which maintain our global competitiveness.

'Whatever the general election result, the new government must keep up the commitment to the sector which is delivering at home and abroad.'
MORE: Caterham Cars opens flagship new showroom
MORE: Online used car prices increase to three-year high