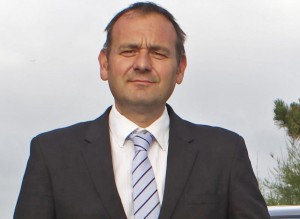 CHRIS HEALY has been appointed sales director of the Southampton-based Freeborn Group.
Chris, who joined Freeborn Citroen as its sales manager in Southampton during 2009, has gradually taken responsibility for overall sales performance across the group's four dealerships (the other three are in Winchester, Godalming, and Wokingham) as well as its motorhomes dealerships in Southampton and Godalming.
He started his career in Romsey as a car cleaner when he was 15, moving up to driving parts delivery vans as soon as he was old enough during school and university holidays.

After studying business law, he returned to the motor trade gaining experience in parts, service, and warranty before moving to sales and his first managerial role by the time he was 25.
'Chris has worked hard within Freeborn since his arrival and his analytical thinking has helped him get to grips with taking on motorhomes as well as cars and vans,' said Freeborn Group managing director Andy Jones.
'His promotion to the board is well deserved.'
Chris says his broad experience within the motor trade has helped him to develop Freeborn's sales: 'I'm fortunate that I've developed a very broad view of how a dealership should work and, of course, I Iove cars and anything automotive.

'I can't think of any other job that would be so rewarding or as much fun!'
MORE: New registrations grow steadily as ultra-low emission vehicles surge past 10k mark
MORE: Auto Trader Click Awards judging line-up unveiled
MORE: Dealers preparing for a paper mountain
On SuperUnleaded.com: TVR is making a comeback and we're pretty excited