The UK's leading automotive digital marketplace has confirmed the line-up of judges for the 2015 Auto Trader Click Awards. Celebrating excellence and innovation in digital car retailing, nine awards will be presented at a ceremony at BAFTA in London on Thursday, July 2.
This year, the cross-sector panel includes Dan Daly, senior marketing manager at Amazon; Tim Faircliff, executive chairman at AOP; Ben Sutherland, chief performance officer at iProspect; Mike Buckley, digital commercial director at Telegraph Media Group; and Marc McNeill, Auto Trader's customer experience director.
The multi-sector line-up was chosen to reflect the new face of retail across all sectors, driven by changes in consumer buying behaviour. Evidence points to a buying journey in sectors like fashion and white good sales that closely follows trends in car retailing.

Auto Trader's market research director Nick King explained: 'The behaviour of car buyers has changed dramatically. For example, in the past four years the number of visits to a physical forecourt has fallen by 50 per cent. Buyers simply don't need to shop around in person when they can find everything they need online, thanks to the variety of mobile devices available to search.'
% of buyers by sector who research online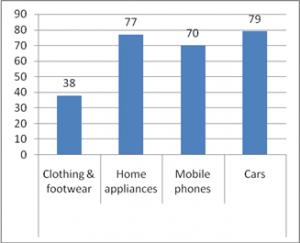 % of buyers who research using a smartphone/tablet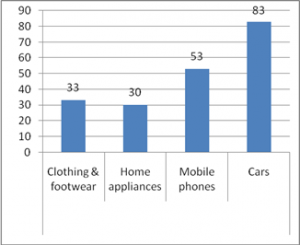 King added: 'This change isn't peculiar to car buying. Technology has driven changes in the way we consume everything. Retailers across the board have fewer opportunities to engage with a potential customer in person, but more opportunity to help buyers and influence a purchasing decision in the digital space.' 

Across the retail landscape, research suggests the physical store is increasingly being sidelined in favour of online sales. According to a 2015 Retail Week report looking at trends in fashion retailing, 49 per cent of those aged between 25 and 34 now prefer to shop online compared with 38 per cent across all age groups. Soaring sales for Boohoo.com, up 27 per cent in the year to February 2015, underline this trend among the young. 
The picture is similar in the white goods sector. Online retailer AO has benefitted from a significant shift away from showroom-based sales, where the number two market player Comet went bust in 2012. According to a review conducted by strategic consultants OC&C in 2013, 49 per cent of all spending on white goods is forecast to take place online by the end of this year.
'More retail outlets appear to be turning into brand hubs, rather than sales premises in the traditional sense,' added King. 'In the motor industry, that's probably best exemplified by Audi City London, the pioneering store that opened on Piccadilly in 2012. This was the world's first fully-interactive car showroom with the entire model line-up presented digitally in a compact space. 
'But more traditional high street retailers have embraced the digital revolution and are changing their public face as a consequence. Argos, for example, opened its first digital stores in December 2013. In 2015, it opened 10 more inside branches of Sainsbury's, its stated public goal being to become a digital retail leader.'
In 2014 Audi won the Auto Trader Click Award for Ultimate Digital Group, thanks to its ground-breaking approach to digital marketing and the strength of the Audi online experience. For further information on the awards, visit: http://autotraderclickawards.co.uk/
MORE: Amazing! 2,000 people now signed up for #CDX15
MORE: #CDX15 tickets are available free of charge here
Guide to the expo: The floorplan for the Car Dealer Conference & Automotive Expo on June 9 – download here.
What's happening hour-by-hour: The must-attend workshops, keynote speeches and breakout sessions (plus, find out where you can get a cup of coffee!) – download the morning programme here and the afternoon programme here.
MORE: Why you mustn't miss Manheim at the Car Dealer Conference & Automotive Expo
MORE: More than 1,500 delegates sign up for the event
MORE: Women in the Motor Industry session at the Car Dealer Conference & Expo