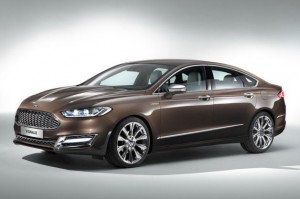 Dedicated Ford Stores are to be created to sell Mustangs and new upmarket Vignale models – but only 65 of the manufacturer's 530 showrooms will get the treatment.
A Ford spokesman told Car Dealer Magazine that the brand is currently negotiating with dealers across the UK as to who will get the green light.
'We are currently getting into the detail of the service element of the Vignale customer offer which will rely on the output of various studies which are still on going,' the spokesman told Car Dealer.

The Vignale brand is targeted at stealing sales from Audi and BMW with upmarket versions of the Mondeo and S-MAX leading the charge.
Auto Express has reported that customers will be given VIP treatment with dedicated Vignale Managers and posh lounges in dealerships. Customer cars will be collected by dealers for services, they'll be cleaned and stone chips and scratches repaired, before being returned.
The Ford Stores are believed to be set to open in the middle of 2015. However, it's not yet known where they will be located.
'We are in the process of negotiation and signing right now so for obvious reasons we can't supply a list,' the Ford spokesman told us.

MORE: Ford dealerships to offer Vignale lounges
MORE: Ford launches Vignale – what's it all about?