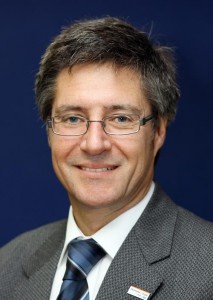 FORD of Britain's solely-owned dealer group TrustFord has appointed Steve Hood as chief operating officer.
Steve Hood was previously the strategy director at the dealer group. He has broad automotive experience and is returning to TrustFord following three years working as the director of sales operations in Ford of Europe. During his recent role he has been responsible for developing dealer network strategies in Europe and developing the retail experience for Ford customers.
Ford of Europe vice president marketing sales and service, Roelant de Waard, said: 'Steve is the right person to take on this important industry role with the opportunity to apply the principles he has been instrumental in developing in Ford of Europe to the rebranded TrustFord group.'

The TrustFord identity has been rolled out across the entire network of 65 sites in the UK, which previously operated under a variety of local brand names, including Bougourd Ford, Brunel Ford, Dagenham Motors, Heartlands Ford, La Motte Ford, Lindsay Ford, Polar Ford, @First Parts, Ford Retail Online and Ford Online Parts. All of these brand names are now identified as TrustFord and TrustFirstParts.
Operating as one single brand helps give Fleet, Retail, Bodyshop, Parts, Aftersales and SME customers a better understanding of the scale of TrustFord's services across the UK – from ensuring customers have the widest range of Ford vehicles available to them, wherever they are in the country, to making it easier to recognise a dealership.
MORE: Are Ford committed to Britain? 'Of course!'
MORE: Honda dealers retain the most routine servicing for eighth year running

MORE: FREE to download for your iPad: Issue 81 of Car Dealer magazine