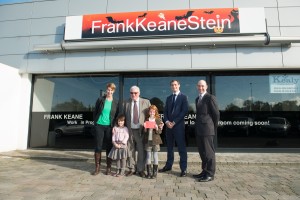 THE team at Frank Keane BMW and Mini in Blackrock, Co. Dublin, Ireland, have got into the spirit of the Hallowe'en season this week and undergone a temporary name change to FrankKeaneStein!
And it's all down to the creative genius of eight-year-schoolgirl Rosa Shafe, who came up with the idea last year.
Rosa, passing the showroom on her way to school every day, stopped her mother and pointed at the showroom sign saying it would be funny if Frank Keane added 'stein' to the end of their name.

The idea was well received and a new sign was promptly installed for Hallowe'en week last year, with the exercise being repeated this year too.
As a thank you, Rosa and her mother Helen were invited along to the FrankKeaneStein showroom where Frank Keane himself presented Rosa with a voucher for her clever idea.
He said: 'In the normally serious world of business our temporary new name adds a sense of fun! Thanks to Rosa for sharing her clever suggestion with us.'
MORE: Top 10 tips for getting the best from Google Analytics

MORE: Ten more dealers sign up to represent Ssangyong
MORE: Exciting new position for Richard Hage at GardX