NISSAN has revealed it's looking at other forms of low-emission motoring such as plug-in hybrids and hydrogen-power rather than just electric cars.
The firm's executive vice president, Andy Palmer, revealed to Car Dealer that while Nissan still aims to become the world's leader in electric motoring, plug-in hybrids and hydrogen-powered cars wearing Nissan badges will be appearing in the next few years.
First will be a plug-in hybrid which could arrive in just two years time with the firm putting the technology into a current production car rather than create a bespoke, ground-up plug-in hybrid such as rivals Toyota with its Prius.

As to what car will get a plug-in hybrid derivative, Palmer pointed to a mid- to large-sized Nissan.
'I feel plug-in hybrid technology naturally lends itself well to C- and D-segment cars. EVs should be small whereas plug-in hybrids can be larger,' he told us.
'One car which I would like to see a plug-in hybrid version of is a crossover,' Palmer added.
That could mean the next-generation Qashqai may feature not only a range of conventional-engined powerplants, but also a plug-in hybrid version.

The Nissan SUV crossover could be the perfect fit for the new technology. Palmer revealed the new British-built car will be a development of the current Qashqai in terms of packaging. It'll be larger for instance, while the seven-seat variant – called Qashqai+2 on the current car – will be different: 'Don't expect us to do it in the same way,' said Palmer.
And the Japanese giant is also seriously considering building a hydrogen-powered car too.
While the plug-in hybrid will use an existing car for its packaging, Palmer revealed a Nissan hydrogen car would have its own separate platform. In effect the hydrogen car will adopt a similar packaging approach to that of the all-electric Leaf does when it is compared to more conventional-powered Nissans in the current model line-up. The hydrogen-propelled Nissan could arrive as early 2017.
Electric dreams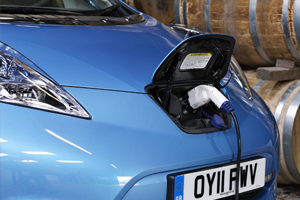 PALMER also revealed Nissan is making serious investigations into the next stage in electric vehicle motoring.
Will Nissan introduce smaller batteries to bring down the cost of electric cars, or will the firm create larger batteries with longer ranges at the cost of increased charging times?
'That's the continual question,' Palmer told us. 'I think we will offer a range of solutions to our customers.
'If we create larger batteries which take longer to charge up, I do not see this being a problem. We have found that while a lot of people buy the Leaf as their second car and end up using it as their first, few of our 60,000 Leaf customers fast charge. They do not have "range anxiety" – most charge over night, three times a week.'
Nissan has shifted 60,000 Leafs worldwide since its launch in 2010, and last month 2,200 Leafs were sold in the USA alone. Nissan is proving naysayers to electric motoring wrong.
'When we first announced our EV plans, the industry thought we had lost the plot,' explained Palmer. 'If you look at Nissan's history – it is spattered with innovation. We tend to take the lead in new technology.'
Palmer pointed to Nissan creating the first hybrid – called the Nissan Tino – well before Toyota and Honda launched their cars.
'If you look at Prius and where that car was three years after it had been launched, Leaf is 30 per cent ahead of the Toyota,' Palmer added.
Have you filled in our Car Dealer Power survey yet? It's a great opportunity to have your say, and you could win one of seven great prizes! Click here to enter.