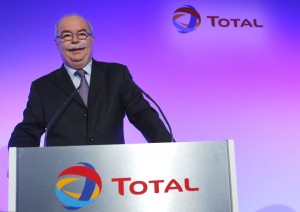 THE chairman and CEO of French oil giant Total was killed last night when his private jet collided with a snow plough at Moscow's Vnukovo Airport.
Three crew members, all French citizens, also died in the accident that claimed the life of Christophe de Margerie. It was reported today that the snow plough driver had been under the influence of alcohol.
The chief of the airport's press service, Elena Krylova, told Reuters: 'A plane crashed when it collided with a snow-clearing machine. Three crew members and a passenger died. I can confirm that the passenger was Total's head, Christophe de Margerie.'

The collision occurred when the business jet was attempting to take off for Paris. Mr de Margerie, 63, was the only passenger on board.
An official statement from the fuel company said: 'Total confirms with deep regret and great sadness that chairman and CEO Christophe de Margerie died just after 10pm (Paris time) on October 20.
'Four people were found dead at the scene of the accident. The thoughts of the management and employees of the Group go out to Christophe de Margerie's wife, children and loved ones as well as to the families of the three other victims.'
Mr de Margerie was known as 'Mr Moustache' and rose through the ranks at Total to become chief executive in 2007, adding the role of chairman in 2010. The firm is said to be the fifth largest publicly-traded integrated international oil and gas company in the world, with exploration and production operations in more than 50 countries.

A vocal critic of sanctions against Russia, arguing that isolating it was bad for the global economy, Mr de Margerie visited the country regularly.
President Vladimir Putin has sent his condolences and French president Francois Hollande expressed his sadness at the news.
MORE: Record month for apprenticeships at JCT600
MORE: Garages caught removing diesel particulate filters