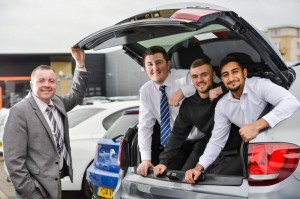 SIR ALAN SUGAR might be looking for just one apprentice at the moment – but at thriving dealer group JCT600 there are almost 100 of them!
Last month, the company recruited more apprentices than ever before, welcoming 35 young people to the 47 dealerships that make up the business.
The apprentice scheme at JCT600 has been around for many years but 2014 has seen it expand dramatically with a trebling in the number of people taken on.

In total, the company employs 94 apprentices and there are plans to add even more next year.
This year's intake is the largest ever seen, with apprentices primarily taking on technician roles but also joining as parts and bodyshop advisers at JCT600's dealerships throughout Yorkshire, the north-east, the Humber, Derbyshire, Lincolnshire and Nottinghamshire.
Apprenticeships run for two and three years and the successful candidates gain NVQ Level 3 qualifications alongside IMI technical certificates.
Chief executive John Tordoff said: 'Our ongoing success is dependent on us being able to continue to attract and retain the best people and we are committed to investing in developing our team.

'The apprentice route is a great way to bring school-leavers with potential into the business, offering them an alternative career path where they can learn on the job, gaining a recognised qualification while earning a salary.
'It's great to see the enthusiasm of these young people and we believe they will be a real asset to the JCT600 family.'
JCT600 is one of the UK's largest privately-owned independent motor groups and represents 19 franchises operating from its dealerships across the north of England. The company has an annual turnover in excess of £850 million.
MORE: JCT cyclists complete gruelling charity ride
MORE: JCT reclaims its original site