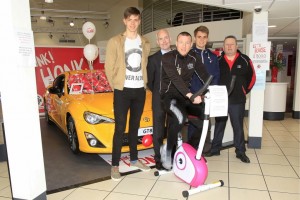 A TEAM from RRG Toyota Bury are swapping cars for bikes as they begin a sponsored bike ride of 891 miles – the distance from Land's End to John O'Groats – in aid of Comic Relief.
The launch of the ride saw members of Bury FC visit the dealership to get the proceedings under way and add their pedal power to this worthwhile cause.
Held as part of Toyota GB's national fundraising efforts to raise £1 million for Red Nose Day, the team have installed a stationary bike in the dealership, where employees are taking turns to clock up the miles.

Local people are also being urged to pop in from now until March 13 to sponsor the team, donate or even to join the fun and participate in clocking up the miles.
Customers can also raise money by buying an exclusive Comic Relief Red Nose and have it fitted on their car for £5.
Dealer principal Andy Couser said: 'We're all revved up to put our best foot forward for this year's Comic Relief sponsored cycle and we're urging the local people of Bury to pop into the dealership and get involved in our collective efforts to raise money for this fantastic cause.'
RRG Bury is one of the longest-serving Toyota centres in the country, with a loyal customer base who have been buying and servicing their cars at the Bury site for more than 30 years.

Our picture shows, from the left, Bury FC goalkeeper Nick Pope; RRG Bury general manager Andy Couser; Ian Wilcock, Bury goalkeeping coach (on bike); Danny Rose, Bury FC striker; and Keith Ashton, RRG Bury senior sales executive.
MORE: We're after a 20 per cent sales increase this year, say Mazda
MORE: Vines enters two-year contract with Accident Exchange
MORE: Dealers and customers win with used car PCPs