FOLLOWING last month's success with the Rav4 that Jim Reid offered to us, I've decided that buying a run-of-the-mill Euro box wasn't the way to go if I want to make some quick bucks. So, I decided to plough deep into the depths of my experience and look for stuff that was going to stand out, something that a specialist would snap up and something that I had owned, so I would at least have a fighting chance of not buying a complete nail – or so I hoped – and I found just the thing.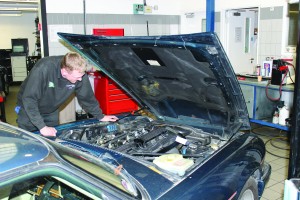 On last month's Real Deals page, we featured a 1995 Jaguar XJS and I thought it would be perfect for Trading Up, and as you may have read last month, we picked this up from Jonnie Sparshatt at Sycamore Cars in Emsworth. Once I explained what we were looking to do, Jonnie was only too happy to knock a few quid off the trade price. Eventually, we agreed on £2,200.
The test drive didn't start well, a rough idle and what I thought was maybe a puff of smoke were followed by a drive with more wallow than a marshmallow factory. However, the body was sound enough, all the electrics worked and it had a wad of service history that any collector would love. After a few miles, she settled down and ran smoothly, confirming that the initial rough running was due to the fact that she had sat around for about six weeks during some of the wettest weather we've ever seen.

Deal done, I drove her home and tweeted about the next project. As a result, Alistair Jeff from Auto Trader put me in touch with Brett Ward of Harwoods, which runs the Jaguar franchise in Chichester. After the initial ridicule for buying an old Jag, Brett offered to get the car into its dealership and see what could be done to sort out the perished bushes, give her a spruce- up, and MOT and service her. Well, that was the plan, but as we all know, buying older stock with rose-tinted glasses is nearly as bad as sitting in front of eBay after a bottle of red wine…
What did I say about not buying a complete nail? My inspection showed she had a solid body, good electrics and, aside from a well-worn driver's seat, a very good interior. However, once the boys at Harwoods got on to her, the list of work needing to be done was, err, a little longer than I had hoped for. However, Harwoods is a main dealer group and when it looks at something it looks at it from a point of view of making sure that it's done properly.
I'm hoping to get her back in a few days, serviced, MOT'd, with new suspension at the front and with a very clean bill of health from one of the UK's foremost Jaguar dealerships… this must make her worth a few quid to someone. I'vebeen closely watching the classififieds and these things are starting to appreciate. I am hoping we should clear at least £2,000 profit towards our charity target. However, we all know what happens with the best-laid schemes of mice and men, and with this being a 20-year-old Jag, my fate is very much in the hands of the gods.
The story so far
Part one: Suzuki Vitara
Part two: Toyota Rav4