THINGS are slow out there and this month reminded me why I get so frustrated with eBay. Don't get me wrong – if you need parts or are looking for something specific it's a great place to find things, but selling cars is a whole other kettle of fish.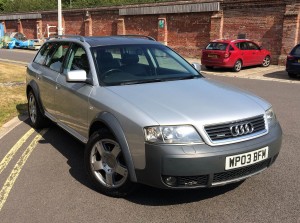 If you need to sell something, a no-reserve auction pretty much guarantees you can shift any sort of vehicle, and sometimes you might luck in if two or three people are really after what you have. However, at the lower end of the market, where Trading Up currently resides as we look to raise as much money as possible for Great Ormond Street Hospital, there are a lot of time-wasters.
Twice we sold one of our cars and twice the buyer claimed it was a mistake. Eventually, the Jag sold. However, as I sit here, I'm still waiting for the buyer to collect.

Twice they've cancelled, despite giving me a whopping £100 deposit – third time lucky I hope!
On a more positive note, the MX-5 was picked up and we now move on to our next cars. I have a brace of Audi A6 Allroads that I'm expecting to fill a hole.
First up, bought via Sytner Web, we have a 2003 model with full leather and extensive service for the same amount that we sold the Jag for. It's not going to set the world alight profitwise but should make us a few quid on a quick turnover.
These big Audis are known to suffer problems with their air suspension, but all seems together on this one and the build quality is just as you'd expect. Living out in the middle of nowhere, I know these big old beasts are well respected or their soft-road ability on bad country roads, blended with good build quality and, of course, the badge that is all the rage at present.

After the frustrations of eBay, I'm going back to our tried-and-tested route of Auto Trader for the next couple of vehicles.
I've spent a couple of days at the auctions, looking round BCA Blackbushe and fifinally getting to visit our friends at Central Car Auctions north of the border in Glasgow.
I'm hoping that a couple more quick turnarounds will help bolster the charity kitty a little bit, even if the market is painfully slow at present.