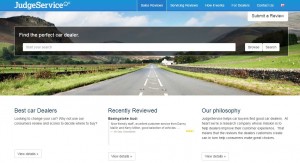 JUDGE SERVICE, a leading UK provider of car dealer reviews, has expanded its product range and doubled its staff – and it has also published its milestone 300,000th review. 
The company, which was launched in 2011, has seen steady growth and recently doubled its team of contact centre staff to deliver its evolving range of products.
As well as its headline used car customer satisfaction programme ReAct, JudgeService offers a wide range of additional customer satisfaction tools including ProAct, its lost sales survey, Advanced Warning About Car Selection, (AWACS) and Motability to ensure customer's needs are met throughout the car-buying journey.

All surveys include the new Dashboard facility, which allows dealers to compare their results to competitors, groups and sales people to use in internal development, training and management. JudgeService's products have now delivered 300,000 reviews for more than 800 dealerships nationwide.
Dale Woodley, sales director at JudgeService, said: 'Reaching 300,000 reviews highlights the growing importance of online customer feedback.
'Being able to deliver up-to-the-minute data about reviews is an invaluable resource for our clients as our research shows that 83 per cent of consumers use social media when researching their next car and expect to find customer reviews to help them make a decision on which dealer to use.'
JudgeService was recently appointed by Jaguar Land Rover as one of four preferred suppliers to provide lost sales follow-ups to 220 dealerships across the country.

MORE: Staffordshire business scoops prestigious 'Garage of the Year' award
MORE: Kia will have a sports car 'in the next four years'
MORE: Shortlist revealed for CitNOW's inaugural video awards
On SuperUnleaded.com: Fiat Seicento attempts parking, takes everything out in sight