CAR registrations in the UK fell by 6.3 per cent in January, according to new data from the Society of Motor Manufacturers and Traders (SMMT).
The first month of 2018 saw 163,615 new cars being sold, a significant decrease compared to the 174,564 sold in January 2017.
The drop was seen across the industry, with registrations by business, private and fleet buyers falling by 29.7 per cent, 9.5 per cent and 1.8 per cent respectively.

The SUV segment was the only one to see growth, with demand increasing by 6.6 per cent, meaning that these cars accounted for 20.2 per cent of all new car registrations last month.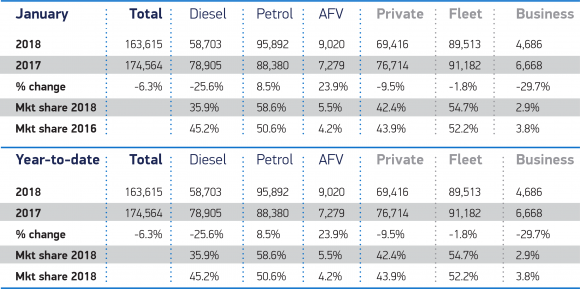 The registration of petrol and alternatively fuelled vehicles went up by 8.5 per cent and 23.9 per cent respectively, but the sale of diesel cars declined by 25.6 per cent, which the SMMT blamed on confusion over government policy causing buyers to hesitate.
Mike Hawes, chief executive of the SMMT, said: 'The ongoing and substantial decline in new diesel car registrations is concerning, particularly since the evidence indicates consumers and businesses are not switching into alternative technologies, but keeping their older cars running.
'Given fleet renewal is the fastest way to improve air quality and reduce CO2, we need government policy to encourage take up of the latest advanced low emission diesels as, for many drivers, they remain the right choice economically and environmentally.'

'The new car market continues to perform in line with expectations, down -6.3 per cent in January. On the used vehicle side, franchised retailers continue to see a buoyant market, which is worth over £65 billion a year,' said Sue Robinson, Director of the National Franchised Dealers Association (NFDA), which represents franchised car and commercial vehicle retailers in the UK, commenting on the latest SMMT's new car registration figures.
'The sector performed extremely well in last year's first quarter thanks to a number of factors including the new vehicle excise duty which came into force in April which explains this correction in the market.
'The alternative fuel vehicle market continues to grow, up 23.9 per cent in January. The increase in petrol sales indicates that many motorists are switching fuel type from diesel to petrol, although depending on the type of driver Euro 6 modern diesel may still represent the most efficient option.
'Going forward, it is critical that consumers are supported by consistent, clear information to help them make informed purchasing decisions.'
Chris Bosworth, director of strategy at Close Brothers Motor Finance, added: 'Following a tirade of politicians setting out to tackle the urban air quality crisis and the ongoing Brexit negotiations today's fall in figures did not fall short of expectations.
'Consumers have become more worried than ever about possible restrictions on using their cars which has taken its toll on sales and shifted attitudes towards cleaner technology – whether that be for diesel or electric cars. Meanwhile, demand for commercial vehicles was also hindered by prolonged, high inflation rates and stagnant wages, leaving consumers with a minimal disposable wage to play with.
'To remain buoyant during these uncertain times dealers and manufacturers alike must become more nimble and react to any new policies the government may throw their way in a positive manner. Only through promoting positivity around these changes rather than uncertainty will consumer confidence be restored in the industry.
'The motor industry is evolving so it is crucial that dealers accommodate by having the right cars on their forecourts or at the very least be able to have an open conversation with their customers about the options available to them which coincide with government policy.'
James Hind, founder and CEO of independent car buying site Carwow, says: 'There's no doubt – the industry is working hard. Manufacturers have looked to jump start sales in 2018 through a series of limited time offers in a bid to get a fast start to the year.
'Kia, Seat, Volkswagen and Honda all had very attractive January-only offers in an attempt to stimulate a very tough market. This included an additional £500 deposit contribution on the Volkswagen Golf that has now been extended to the end of quarter one.
'As a result, customers on the Carwow site have been quick to respond and January saw an uplift in year-on-year configurations for these models.
'Jaguar, Land-Rover, Renault and Vauxhall all did the same for part of the month, with offers that were specific to in-stock vehicles. These included £1,000 off of all stock vehicles for Jaguar and Land-Rover, 20 per cent off of selected Vauxhall models and increased manufacturer support on selected Renault models.
'These incentives are no surprise given the general retail slow down, which has also seen an oversupply of stock on some forecourts right now.
'However while the industry is pulling out all the stops – and we may see incentives like this ultimately lift the market as the quarter progresses – it's clear the industry continues to be hindered by lack of clarity on diesel and the delay in implementing the electric car charging infrastructure promised in The Budget.
'However, it is noticeable that there has been a shift towards petrol models away from diesel, as Government policies continue to fuel doubt in the market.'
MORE: Black was the UK's favourite car colour in 2017, according to the SMMT
MORE: SMMT president urges faster, concrete progress over Brexit transition period
MORE: Used car sales fall but market is holding steady, says SMMT
On Workshop: Top-performing service staff honoured at special ceremony