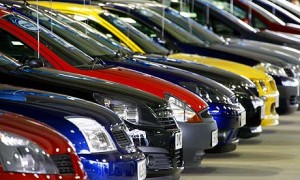 THE SMMT has revealed that almost 2.5 million cars were registered in the UK in 2014 – the most in a calendar year since 2004.
And last year was the fourth largest of all time, with only 2002, 2003 and 2004 seeing more cars registered.
The 2014 market grew 9.3 per cent over the previous year – an impressive performance when compared to the EU average of 5.7 per cent.

The exact number of cars registered in the UK during 2014 was 2,476,435. And the figure for December was 166,198, up 8.7 per cent on December 2013.
Further analysis of the registration figures for the last month of 2014 reveals:
The UK remains second largest market in EU (behind Germany and ahead of France, Italy and Spain), and recorded the second-largest growth of these top five EU markets.
Every month in 2014 saw an increase, with December's 8.7 per cent rise the 34th consecutive month of growth.
Huge growth for the plug-in car market, which saw volumes quadruple from 3,586 in 2013 to 14,498 in 2014.
Mike Hawes, SMMT chief executive, said: 'UK new car registrations returned to pre-recession levels in 2014, as pent-up demand from the recession years combined with confidence in the economy saw consumer demand for the latest models grow consistently and strongly.
'The year was particularly strong for alternatively-fuelled vehicles as increased choice, coupled with a growing desire for reduced costs and greater efficiency, resulted in a quadrupling of plug-in car registrations over 2013.

'Another jubilant year'
'With a variety of new plug-in models expected in 2015, this area of the market will continue to grow significantly. For the market as a whole, we expect a more stable 2015 as demand levels off.'
Richard Lowe, head of retail and wholesale at Barclays, said: 'It's been yet another jubilant year for UK new car registrations, thanks to the recipe of quality products, range of choice, alluring finance deals and ever-improving consumer confidence.
'January is also likely to motor ahead as a strong month, although the real test will be in March when the new plate change comes in, as it remains to be seen if 2014's bumper high of an almost 18 per cent increase can be smashed.'
MORE: Perrys names new managing director
MORE: Salesmen swap places for TV programme
MORE: New Hyundai is redefining the way dealers look at cars