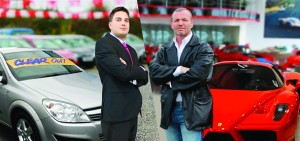 HOW would a salesman used to selling supercars get on when if he had to work in a pile-'em-high, sell-'em-quick car supermarket?
That's the story behind BBC Two's programme Super Cars v Used Cars: The Trade Off which airs today at 9pm.
The BBC blurb about the programme says: 'Two salesmen at opposite ends of the used-car market are trading places to see if they can make it in very different parts of Britain.

'In London, Louis sells supercars to Britain's wealthiest car enthusiasts,while Darren flogs reliable runarounds in Bridgend, Wales. They're both at the top of their game, but they're swapping jobs, customers and bosses in a bid to meet or even beat each other's targets.'
Take a look – and let us know what you think. Email [email protected] – or post on our forum here – with your thoughts.
MORE: New-car registrations reach a ten-year high 
MORE: Perrys names new MD