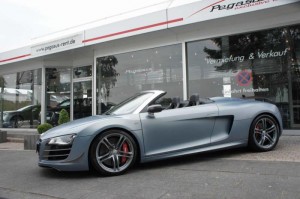 THIEVES have got away with an ultra exclusive Audi R8 GT Spyder in a raid at a German dealership.
The criminals also stole a Porsche Carrera 4S and a Ferrari 458 as they targeted Pegasus Exclusive Cars in Monchengladbach, Germany.
The special edition Audi is one of only 333 made. They are distinguished by the titanium grey accents on the bodywork, carbon fibre front spoiler, rear wing and diffuser as well as sitting 10mm lower than its standard sibling.

All together the thieves have got away with more than £455,000 worth of cars. The R8 is valued at £165,363, the Ferrari is the most expensive at £194,966 and the Porsche was advertised for £95,495.
It is suspected the Audi is in Cologne as it was seen on the German A61 heading in that direction, on November 14 at 4:30am.
Klaus Berger, owner of Pegasus Exclusive Cars, told German newspaper BILD: 'These were professionals who probably had a tip off. They have also taken some 100 car keys from other vehicles. They obviously knew exactly where to find what.'
MORE: £100,000 of damage as car leaves the road and hits dealership

MORE: Car dealership swamped with calls from women wanting breasts screened
MORE: Seven cars raided from Wirral dealership just five weeks after opening