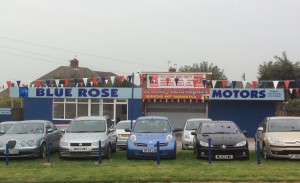 BLUE Rose Motors in Wirral had been open only five weeks when the dealership was subjected to an overnight raid and seven cars were stolen. 
The raid took place between 5.30pm on Bonfire Night and 8.30am the next morning, when the thieves pushed cars down the road, as the keys were not on site.
One of Blue Rose Motors' owners, who asked not to be named, told the Liverpool Echo: 'What's confused me, they have taken a Ford Ka and its head gasket was gone, it wasn't driveable.

'The majority of the other cars taken can't be started without the key either so it's a bit of a mystery. But one of our guys walked down the road to see if anyone saw anything, and someone said they saw a group of lads walking down the road pushing a car at around 12.40am.'
Blue Rose Motors was left in a sorry state, as the raiders cut alarms and locks to get in unnoticed before stealing a computer, two Ford Kas, a Fiat estate, a Mercedes A140, a Nissan Micra, a Toyota Yaris and a Vauxhall Meriva. Around a dozen further cars were also vandalised, at the site on Arrow Road, Greasby, as reported by the Liverpool Echo.
The dealership owner explained: 'I came in to open at 8.30am, went to unlock the door and it was already open.
'The place was trashed, the computer was gone, it was a mess.

'They've kicked the door in, everything was everywhere. They smashed a window and even poured drink inside the printer and scanner just for laughs.
'They cut the alarms. We've also got barriers so you can't drive in at night, and they've cut the locks off them.
'We've got around 60 cars here and as well as those taken, others have been vandalised. There are scratches around keyholes where they've tried to get in, others have had their tyres slashed. It's a nightmare.'
The owner added: 'We are insured so nothing is going to happen to us, we'll still be able to carry on the business. It's just very frustrating, it really doesn't help when you've just started out.'
They wrote this post on their Facebook page after the incident, showing they were unfazed by the incident and that it's business as usual.
A spokesman for Merseyside police said an investigation was underway into the theft. Anyone with information can contact the force on 0151 777 2265 or Crimestoppers 0800 555 111.
MORE: Thieves swipe Audis worth more than £100,000 from dealership
MORE: The average car dealer made £74k in September, says ASE
MORE: Video: Crafty car parker looks at things from a different angle