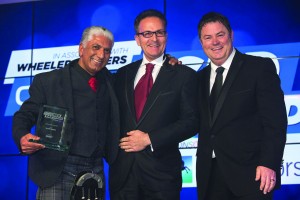 IF there's anyone who knows the value of getting involved in Car Dealer magazine's Used Car Awards, it's Umesh Samani.
'Still buzzing' after picking up a top honour at last year's ceremony, he urged anyone considering making a nomination for the 2014 awards to take the plunge and 'just do it!'
Samani's a well-known and highly-respected figure in the UK automotive industry and was over the moon when he was named Dealers' Dealer of the Year last year.

The accolade was given to him in recognition of his business-like attitude and spirit and also because he simply loves selling used cars and meeting people from all walks of life while running his dealership, Specialist Cars of Stoke-on-Trent.
Looking back on his own success, and a fantastic night of top-class food, drink and entertainment at The Brewery in central London, Samani recalled: 'It was an absolutely electric night – fantastic.
'I'm still buzzing even though the event was nearly 12 months ago! As I say, it was a fantastic night. In fact I was talking to some friends about it over the weekend.
'It wasn't just winning the award that was so great, but also the knock-on effect. I gained some positive PR out of it and, as a result of that, a lot of customers remember that I won an award. How do you put a value on that?'

The Used Car Awards are held each year in association with the Wheeler Dealers TV programme and sponsored by Black Horse. To anyone uncertain about suggesting a name for a gong, Samani had a very simple message.
'Definitely go for it,' he said. 'If someone is thinking of nominating someone, they should hit the button and nominate the person who they feel deserves to win the award. If they're not sure about going for it, what have they got to lose?
'Hit the button, put your name down, because, as the saying goes, you've got to be in it to win it. If you're feeling indecisive, just do it. There's no question whatsoever.'
This year's Used Car Awards night is on December 1, again at The Brewery in central London. Find out more about the awards here and make nominations here. There's no time to lose, however, as nominations close on Friday October 31st.
See you at the awards on Monday December 1st!
MORE: Record month for apprentices at JCT600
MORE: Vantage set for pole position
MORE: HPI unveils new motor trade app