USED car transactions in the UK fell by 1.1 per cent in 2017, according to the Society of Motor Manufacturers and Traders.
Q4 saw a more adverse fall, with used car transactions dropping by 5.1 per cent. For the entirety of the year, used diesel sales were down 3.3 per cent and petrol was down 4.3 per cent.
On the up side, it was still second highest total on record, plus sales of used electric vehicles (EV) increased by 77.1 per cent last year compared with 2016, raising total EV sales to 10,199 for 2017.


Mike Hawes, chief executive of the SMMT, said: 'Britain's used car buyers are enjoying more choice than ever, and it's great to see millions of people taking advantage of the low emission, safety and convenience technology filtering into this market.
'While such healthy demand is reassuring, to keep it that way and accelerate renewal throughout the fleet – the fastest way to improve air quality – the government must now restore confidence to the new car sector.
'Given the recent economic and fiscal uncertainty, particularly over diesel, consumers and businesses need clarity to encourage them to move out of their older vehicles and into newer, lower emission cars – whatever their fuel type.'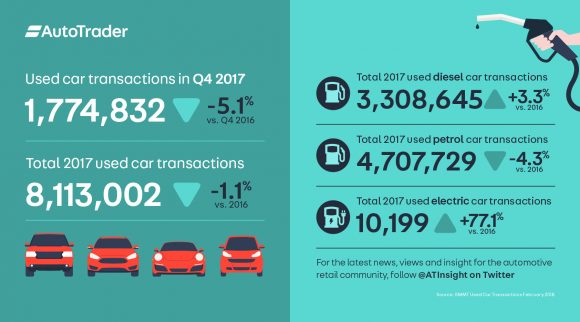 In response to the figures, Nathan Coe, chief operating officer and chief financial officer at Auto Trader, said: '2017 started strongly for the used car market, aided by the change in VED tax in April, which drove both new and used car sales in Q1.

'This was then followed by slower sales in subsequent months, in part driven by a lack of part-exchange supply due to lower new car sales.
'The 1.1 per cent decline for the year highlights the very specific issues affecting new cars as well as the typical resilience we see in used car sales even against record sales last year.
'Furthermore, prices of used cars have continued to increase over the year, as measured by Auto Trader's Retail Price Index, which shows the average price for a used car in 2017 was £11,819, an increase of four per cent (adjusted for changes in mix of age, model and fuel type) compared to 2016.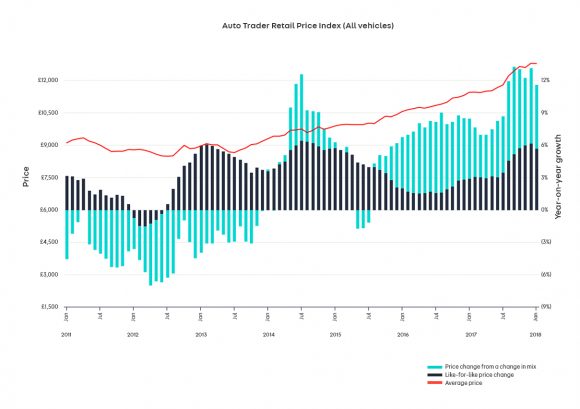 'In what's been a turbulent year for diesel new car sales, it's interesting to see that used car sales of diesels actually rose three per cent, while petrol declined 4 per cent. The growth was in the SUV category and may suggest people changing for newer, cleaner diesels.
'That said, with local councils looking to implement green tax levies for older diesel vehicles, consumers are beginning to favour petrol or alternative fuel types for smaller city cars and hatchbacks to avoid these additional driving levies.
'When we look at prices of used diesels, they actually recorded an average price of £13,944 in 2017 – a like-for-like price growth of 2 per cent for the year – while a petrol car was £9,471, an increase of seven per cent on the previous year.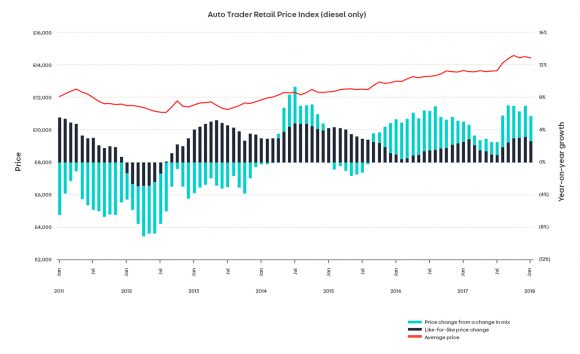 'Looking ahead to this year, industry forecasts suggest the new car market will decline at similar levels to 2017, and used is likely to prove resilient again with perhaps a similar decline to 2017, not least due to less part-exchange supply on new cars.
'As we've seen on our marketplace already this year, there's a high level of consumer interest for vehicles, with nearly 146 million vehicle searches conducted in January alone, and as finance continues to be a key purchase driver, there remains real opportunity within the used car market.'
Julian Rance, head of motor finance at Paragon, added: 'Used car prices should benefit from lower pre-registration activity in the new car market, tightening supply and giving dealers a welcome boost in margin and profitability.'
MORE: UK car registrations fell by six per cent in January
MORE: Black was the UK's favourite car colour in 2017, according to the SMMT
MORE: SMMT president urges faster, concrete progress over Brexit transition period
On Workshop: Schaeffler and Liqui Moly combine to reduce timing chain wear