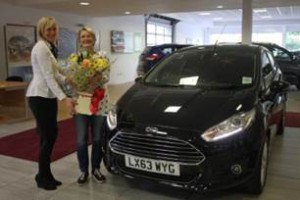 VERTU Motors has hit the Christmas jackpot after selling the one millionth car to be bought on Ford Options Credit.
Fitting in nicely with the festive season of giving and receiving, Ford Credit paid off the £1,800 interest on Lynn Tucknott's black Ford Fiesta Titanium for being the special customer.
Ford Credit's managing director David Andrews and marketing manager Adrian Eastland were both present when Bristol Street Motors handed over the keys to the car at its Ford Orpington site.

Saleswoman Carrie-Anne Carmen sold the car to Tucknott, who was presented with flowers when she came to pick up her new vehicle from the dealership based on Green Street Green. The Fiesta is the first car Tucknott has bought from Bristol Street Motors.
Tucknott said: 'It was lovely to be honoured in this way and I felt very touched that the dealership and Ford Credit had gone to such trouble to mark the event. My new car is wonderful – and Ford paying off the interest was an unexpected bonus.'
Sam Perfect, general sales manager at Bristol Street Motors Ford Orpington, said: 'It is fantastic to be the dealership which has sold Ford Credit's one millionth car – it is a really huge deal. Carrie-Anne is an extremely hard-working colleague who always provides the exemplary level of customer service that customers expect from Bristol Street Motors. Mrs Tucknott initially could not believe she was the landmark customer, but she was very pleased with the reception she got when she went to pick up her car and said it made her feel extremely special.'