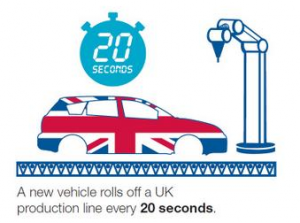 THE UK automotive sector is worth a staggering £10.7 billion to the UK economy, figures just released by the Government have revealed.
The impressive statistic was published as it was anounced that the first nine months of 2014 have been the best for car manufacturing for six years.
A total of 1,132,017 cars were produced in the UK from January to September. The figure represents a 0.6 per cent rise on the same period last year, according to the Society of Motor Manufacturers and Traders (SMMT).

SMMT chief executive Mike Hawes said: 'It is testament to the strength of the automotive industry that it continues to break records – yielding the best year-to-date performance for six years and comfortably surpassing one million units.
'The continued investment by the sector into new models means the September figures took a slight dip as some plants underwent re-tooling, but it is these same new models which will help increase production volumes in the future.'
The #automotive sector is worth £10.7bn to UK economy, 1.6m cars produced a year, 141k employed #IndustrialStrategy pic.twitter.com/VhEsKynAnr

— Dept for Business (@bisgovuk) October 20, 2014
The Department for Business, Innovation and Skills produced an infographic to back up its headline £10.7 billion figure, showing that there are 141,000 people directly employed in the UK automotive sector and that a new car rolls off a UK production line every 20 seconds.
And this week too, Business Secretary Vince Cable pledged £5.4 million of new funding to address skills shortages and build on the success of the UK's automotive industry.

That announcement came on the back of news from Ford that it was investing £190 million in its engine plant in Dagenham, Essex.
MORE: Double-digit sales growth for Inchcape
MORE: New 64-plate drives September registrations forward
MORE: Car sales figures give us reason to be cheerful, says Auto Trader