MITSUBISHI Motors is to introduce a new design for the interior and exterior of approximately 5,000 dealerships worldwide.
The move is based on the new brand message 'Drive Your Ambition' announced last year, and is intended to provide a better customer experience in a high-quality retail environment as well as strengthen Mitsubishi Motors' brand image.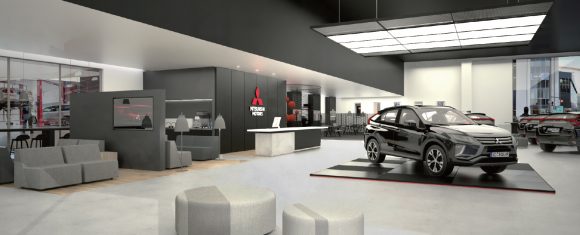 The new design features black, white and grey colour schemes with red dynamic lines as an accent. The uniform design is also aimed at ensuring consistency for customers across the brand, from motor shows, websites and brochures to dealerships.

The architecture reflects the new corporate and visual identity, with a 'Dynamic Slope' as a signature element. Inside, the showroom is designed to provide a better customer experience, while the cars are presented to make sure they're seen as the stars.
Guillaume Cartier, senior vice-president of global marketing and sales at Mitsubishi Motors, said: 'Our brand is evolving and we need to reflect this in each and every customer touchpoint, so we are implementing the new dealer identity to ensure that the customers can experience a consistent Mitsubishi-ness including look, feel and service quality of Mitsubishi Motors wherever they are in the world.'
MORE: Doors officially open at Mitsubishi's first retail store
MORE: Rob Lindley appointed managing director of Mitsubishi Motors UK

MORE: Mitsubishi revives Evo badge as it unveils e-Evolution concept in Tokyo
On WorkshopMagazine.co.uk: Enhanced technical training introduced for electric and plug-in hybrid Mitsubishi vehicles